Wales manager Chris Coleman 'gutted' by Croatia defeat
Last updated on .From the section Football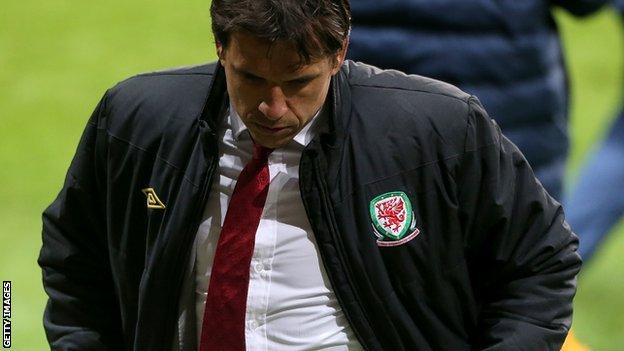 Wales boss Chris Coleman was "gutted" by his side's by Croatia, but said his players were "magnificent".
Gareth Bale's penalty put Wales into the lead, but he missed another excellent first-half chance.
Dejan Lovren and Eduardo then made Wales pay with second-half goals.
Coleman told BBC Radio Wales: "I'm more gutted [than disappointed or proud]. It [a win] would have capped off a really good 10 days and a good run of games."
A four days earlier sent Wales into the clash against Croatia with three wins from four encounters.
Coleman saw Croatia's visit to Swansea as an "acid test" for his side because of their top-10 global ranking.
"They have got a lot of quality, but at half time we could have come in two goals up, really," said Coleman. "We've had some real good chances and I think we showed some really good signs in the first 45.
"Alright, we've come out in the second half and it's human nature, after about 60 minutes, we've started sinking deeper and tried to hang on to it maybe too soon when we should have just kept the game going.
"But it was toe-to-toe for an hour, then they started getting on top. But we're disappointed because the [Eduardo] goal came from long range.
"There was nothing [goalkeeper] Boaz Myhill could have done.
"It moved two or three times - I was right behind it and as soon as it left his foot I knew that looked like it was going to be a goal.
"And psychologically I think that hurt us because for 70 minutes we're there, and then they get the winner right late on and it was soul destroying.
"But in terms of effort from the players, they've been absolutely magnificent, they really have.
"And I think the last 10 days has been a tough camp. We've made it difficult because I said we needed two wins. That's why we went for the win [against Croatia].
"We got one, but I think what we got out over the 10 days was a lot of pride and I think this team is heading forward.
"In terms of the squad, we've still got eight or nine players unavailable - players that would be there or thereabouts. But the lads that we've got - fantastic."
Crystal Palace midfielder Jonathan Williams, 19, made his first start and said: "It was an unbelievable experience to play alongside Gareth Bale and Craig Bellamy, but it is a shame about the result.
"When you play against the likes of Luka Modric, you expect that sort of second-half performance from them. It is a shame we could not hold on. It was a hard night; we knew they would come at us in the second half.
"We gave Croatia a good game and it shows we are improving every game."