Montenegro 1-1 England: How England lost their way
Last updated on .From the section Football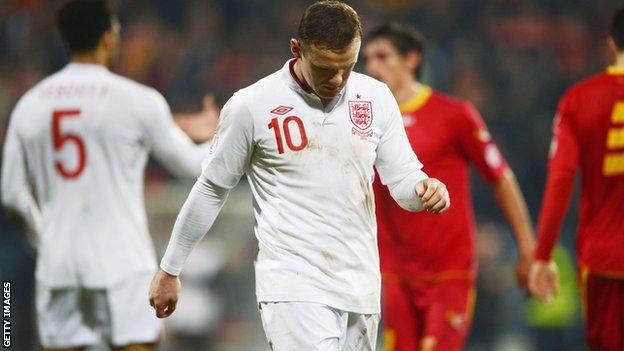 England picked up a hard-earned point in Podgorica but they have much to ponder from their World Cup qualifier against Montenegro.
The game will be remembered for very different performances in each half from Roy Hodgson's side, and their opponents too.
For the first 45 minutes things went well for England, but Montenegro made a change of personnel and tactics at the break, and looked a different team in the second period.
Here a selection of football experts analyse a night which leaves things in the balance at the top of Group H.
FIRST HALF - FEARLESS ENGLAND
Danny Mills, former England defender: "England's approach in the early stages of the game was very brave. They took the game to Montenegro, set a high tempo and were much the better team.
"Roy Hodgson realised the two players who could hurt his side were Mirko Vucinic and Stevan Jovetic, so his response was for England to press the ball high up the pitch.
"That meant when England won possession, they won it in the Montenegro half and that allowed them to attack very quickly.
"England controlled the midfield, passed the ball well, and they should have led by more than 1-0 at the break.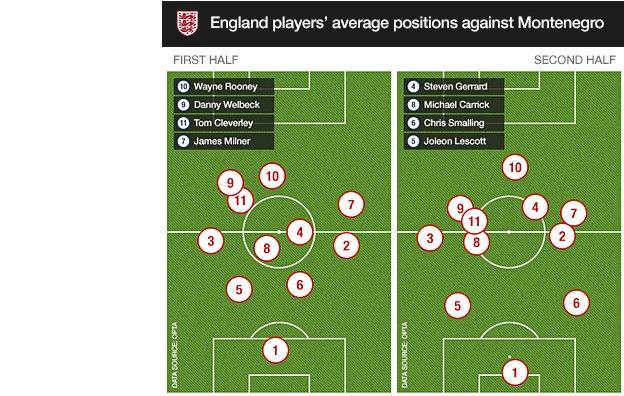 SECOND HALF - ENGLAND FALTER
Mike Ingham, BBC Radio 5 live chief football correspondent: "Everything seemed to change in the dressing rooms at half-time. Montenegro coach Branko Brnovic sent his team out at the start a little bit cautiously, but he altered things at the break and got his best two players on the ball in dangerous areas.
"England completely lost the plot and ended up lucky not to lose the game. Brnovic certainly won the battle of the coaches."
David Pleat, former Tottenham manager: "Brnovic brought on a striker in Dejan Damjanovic for a sitting midfield player in Mitar Novakovic, and his side played with far more passion and oomph. They really closed us down and made it difficult.
"Maybe we were a little bit slow to respond and didn't appreciate they were getting on top as much as they did. You could see a goal coming and we needed a change, but it was very slow to come."
Peter Reid, former England midfielder: "I thought it was necessary to make a change in the middle of the park, whether it was Scott Parker or Frank Lampard coming on to get us more possession of the ball. Roy has seen it differently and ultimately we've paid the penalty."
Danny Mills: "The game flipped completely on its head. England couldn't get to grips with Montenegro's new formation, which saw Jovetic operating behind Damjanovic and Vucinic. At times, they were getting run ragged.
"Essentially, England needed another defensive midfielder on to shore things up because Michael Carrick was getting bypassed. Hodgson only made one change, bringing Ashley Young on for Tom Cleverley, with 12 minutes to go."
POST-MATCH - SAME OLD STORY?
Roy Keane, former Manchester United and Republic of Ireland captain: "Listen, England need a reality check. They should be beating these kind of teams. We were saying how we couldn't believe how bad Montenegro were; England were shocking in the second half. They're going sideways for me."
Martin Lipton, Daily Mirror chief football writer: "It was a bit too familiar - we've seen this too many times in this group so far. They play reasonably well on the Friday but can't play the second part of a double-header.
"They had a good start against Montenegro, as they did in Poland, but can't build on it and end up hanging on. Let's be fair, they were hanging on for most of that second half.
"The manager has to react but the players have to as well; it's a mutual sense of blame to be taken."
QUALIFICATION HOPES - IN THE BALANCE
David Pleat: "We have four games to go, three at home and we should get through. But Montenegro have done very well and, at the same time, Poland and Ukraine now have eight points. If one of those teams win all of their games, we could be in trouble.
"There's never a honeymoon as an England manager. But I think Roy will cope with it - he's got good players, it's just a matter of getting them really together for these Wembley games and winning them convincingly. So far, not too convincing."
Mike Ingham: "We've been down this road and it does seem certain to go to that last game now. Before then, of course, they have to play Montenegro again, they have to go to Ukraine as well.
"The problem for England in this group is they haven't beaten any of the three sides who are their main rivals - they've followed up every victory with a draw.
"So they never have really built up any momentum. It's a lot harder than it was this time yesterday to qualify, and England could well be looking at a play-off place."