Gordon Strachan says Scotland improvements will take time
Last updated on .From the section Football200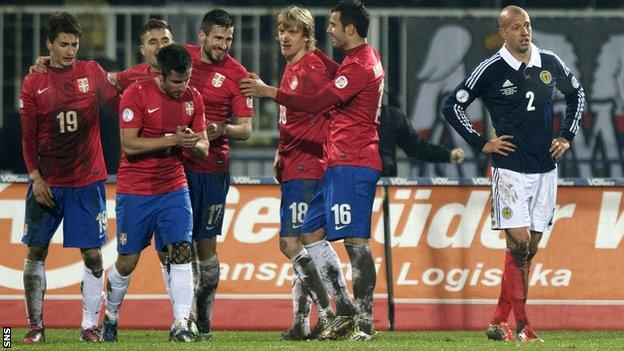 Manager Gordon Strachan admits there is no "quick fix" in getting Scotland to a level where they can compete with the likes of conquerors Serbia.
"It's not a quick-fix to get as strong and as technically gifted as that, that's for sure," Strachan said.
"It was heavy going and I thought technically they were a right good side and physically they were stronger than us, so that gave us a problem."
Strachan had made six changes to the starting XI that lost to Wales on Friday; with David Marshall, Steven Whittaker, Liam Bridcutt, George Boyd, Steven Naismith and Jordan Rhodes all coming in.
A pitch which had been cleared of snow just hours before kick-off proved difficult to play on but Scotland defended well in the first half to keep it goal-less at the break.
However, they were eventually ground down by the Serbians in the second period, Filip Duricic scoring twice from close-range.
"We're happy with loads of things but, in international football, if it's 1-0 you've always got a chance of being in the game," Strachan told BBC Radio Scotland.
"But it seems to happen too often, one goal goes in and another quickly follows and we need to remedy that.
"If we lose a goal, we need to re-compose ourselves and say the game's not finished."
Scotland only had themselves to blame for Duricic's second, which stemmed from Alan Hutton losing out to Serbia's Nenad Tomovic in the right-back area.
And Strachan admitted errors like that needed to be addressed.
"I think there's a time, even in international football, that the players have to be told and we spoke about it in there," he said.
"But for everybody that makes a mistake, they've put a lot of good work into it and it's not a dishonest mistake, it's an honest mistake.
"Some of these players have never played international football before, some of them are playing with injuries, and some of them are not getting games for their club.
"They took responsibility on their shoulders and the longer the game went on the better it got for us."
Two players who made international debuts against Serbia were midfielders Liam Bridcutt and George Boyd, neither of whom featured even on the bench against Wales.
Strachan was very happy with their contributions, and also that of defender Grant Hanley.
"I think we can add them to the future. Considering the surface, Liam's job was harder than Grant's, because Liam's not a big fellow," said the Scotland boss.
"George Boyd showed in flashes some of the things we're expecting of him and the rest of the boys did as well as they could."