England's World Cup aspirations still shrouded in uncertainty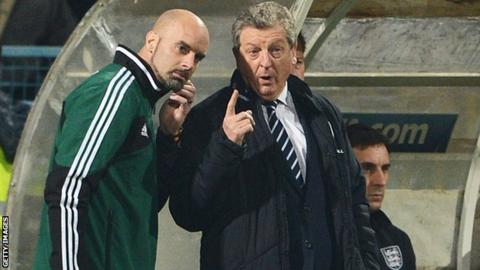 When smoke from the flares finally cleared the skies around the City Stadium and the man with the megaphone offered up one last unflattering farewell, England's World Cup aspirations were still heavily shrouded in uncertainty.
After another atmospheric, occasionally unsavoury, and ultimately unfulfilling night in Podgorica, England manager Roy Hodgson had his story straight.
England's destiny, as they attempt to qualify for the World Cup in Brazil in 2014, is in their own hands. It was a message he repeated - but it is a message that would sound a lot more convincing if England's hands were actually safe.
Podgorica experienced a minor tremor on Monday as Hodgson and his players arrived in Montenegro for this World Cup qualifier. England will experience another if the subsequent 1-1 draw plays its part in an eventual failure to reach Brazil.
Of course Hodgson has a point as England have three of their last four games at home, despite Montenegro still leading Group H by two points. The problem he may have is that this team does not look like it can be completely relied upon under pressure, a pressure that will increase in intensity after events here.
This is not a team you would risk vast sums of money on actually reaching Brazil. They should - but evidence tells us not to bank on it.
England have been here before in almost every sense. In their last Euro 2012 qualifying group they drew 2-2 in Podgorica in October 2011 after controlling almost every step of the first half against opponents who, to their credit, act ruthlessly at the slightest whiff of vulnerability.
It was the same again. An impressive first-half performance which brought Wayne Rooney's goal was fatally undermined by a dreadful display of disorganisation after the restart that saw Montenegro claim a point they ultimately deserved.
Taken in isolation, a point in Podgorica can be viewed as a good result. England, however, must view the draw as an opportunity to wrest control of the group away from Montenegro wasted.
This stadium is an unforgiving place. It throbs to deafening Europop disco more than three hours before kick-off and nationalistic fervour is such that England's anthem is enthusiastically applauded in the most generous manner before and after it is played.
This was to the great credit of Montenegro's fans, the majority of whom simply want to lend the loudest possible support to their emerging team.
There is also a dark side.
Riot police had to move in to stop fighting between Montenegro fans before kick off, objects were persistently thrown on to the pitch and the Lee Marvin soundalike - younger readers must check out "Wandering Star" as a point of reference - may not have done his national association any favours with his loud four-letter send off to England through his megaphone at the final whistle.
It is an intoxicating atmosphere and England collapsed under it in the second half as they demonstrated once again that while kicking the likes of San Marino and Moldova into touch comes as second nature, disposing of the better teams is beyond them.
England have bullied the minnows but study the games against Ukraine, Poland and Montenegro and no victories can be detected. This is why, with home games against Poland and Montenegro and a visit to Ukraine to come, Hodgson's mantra that it is all in England's hands is not exactly a guarantee.
The performances against that opposition in this World Cup campaign means many will not share Hodgson's confidence.
Rooney, back at the stadium where he was sent off in that qualifier, was outstanding as England controlled the first half. What happened after was an example of why, even if they do qualify for the World Cup, England will not worry the superpowers.
They lost their way quite spectacularly in the second half. It was an abysmal effort lacking composure, cohesion and common sense and Dejan Damjanovic's 77th-minute equaliser was deserved.
Good fortune, on which so much can depend, did desert England when Danny Welbeck should have been given a penalty for a foul by Stefan Savic that ended with Manchester United's striker receiving a yellow card for diving. The score was 1-0 at the time and the incident came not long before half-time.
England were also depleted but there can be no excuse for a team at this level losing its way so spectacularly in the second half - and Hodgson must also take his share of responsibility.
The tide had turned against England long before the equaliser and yet Hodgson did not see the need to bring composure and experience to bear on an over-run midfield by introducing Frank Lampard or Scott Parker for Tom Cleverley. Cleverley is a talent but is he a genuine international player? No convincing verdict can be returned on that.
Hodgson's inaction and the poor performance of England's players allowed this qualifier to get away from them. It was a surprise when Hodgson revealed the introduction of Ashley Young for Cleverley was the only one he contemplated - and even then it was only made after Montenegro equalised.
It does not say too much for Lampard and Parker, or indeed their prospects, if Hodgson glanced in their direction during that second-half disintegration and did not feel they could be of assistance.
The fact that Hodgson failed to react, or more accurately did not feel the need to react, was questionable.
England were dragged all over the pitch, the organisation Hodgson holds so dear scattered to all parts of Podgorica.
And when the impressive win against Brazil offers added context, it was only as a reminder of now England will come to rely on Arsenal's Jack Wilshere to an almost unfair degree.
Hodgson has a point with his positive outlook on England's last four games. The question is - can this England be trusted to see the job through?