Stewart Milne and Derek McInnes share vision for Aberdeen

By Heather Dewar
BBC Scotland
Last updated on .From the section Football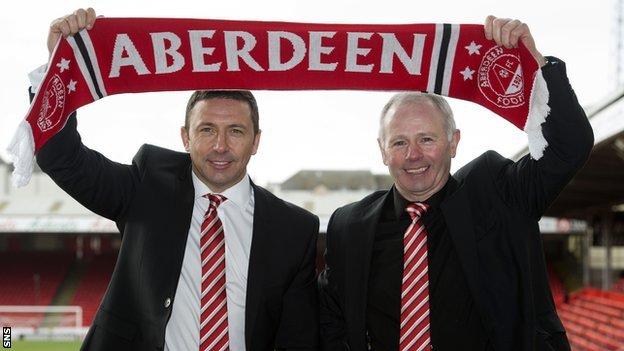 Stewart Milne is a man of few words.
"It has been very disappointing," he told BBC Scotland.
"I think in the early stages of the season we all had high expectations. We felt we had a good squad that Craig and Archie [Knox, Brown's assistant] had pulled together.
"We started off well. The disappointing thing is, we probably had six, seven, eight games that we've been through this year that we should have won and won comfortably.
"But the table doesn't lie: we're in ninth place, that's the cost of delivering just one point instead of three."
Milne is looking to 41-year-old McInnes to improve matters after the split and indeed for the duration of his contract, which runs until 2015.
The Dons can still qualify for the top six, but with only two games to achieve that - Brown's last two matches in charge, against Hearts and Dundee United - there is no room for any slip-ups.
If Brown, 72, can win those two games and results elsewhere go Aberdeen's way, he'll win praise for a top-six berth.
If he can't, he'll be facing his third season in a row where a top-six finish has passed him by.
The former Scotland manager will no doubt see out his final days in management with both vigour and pride, determined to push his team to the limit.
It's up to his players now to show up for the occasion. With six players out of contract in the summer, the pressure is on to make an impact, something McInnes will be assessing in the months ahead.
"I've seen Aberdeen twice in the last six weeks or so," said the new boss.
"It's important that before I make the call on players out of contract and even under contract, I get to work with them as quickly and for as long as possible to make a more balanced call on it.
"I just want to work with people who want to be part of something here, who are hungry.
"And hopefully there will be enough hunger shown in the team between now and the end of the campaign that it will give me optimism that we've got the right players on board here.
"Every player who is out of contract has an opportunity to be part of something here next year."
The need for hunger is echoed by Milne, who though philosophical about the expectations on his new manager, is looking for an improved showing next term.
"Nobody is expecting anything magical, but Derek does acknowledge that Craig and Archie have built a good squad, they're leaving a strong platform behind.
"There are enough players out of contract at the end of the season to give him the flexibility to make the changes he believes are needed at the club.
"We've got to see a team coming out on the park at the start of next season that's going to be determined to try and be up in the top four places next year.
"Derek will set his own targets. He knows that Aberdeen as a club should be capable of being comfortable of being in the top six every year.
"We should be competing for European places, we should be seeing ourselves in semi-finals on a regular basis, occasionally in finals and occasionally winning them.
"That's what we need at this club. I took great comfort that these weren't just my expectations; that's what Derek expects of himself."
The former St Johnstone and Bristol City manager has been afforded the time to mull over his players and bed into life at Pittodrie. The desire to bring back the glory days is palpable.
"It's trying to get a team on the pitch that's feared, respected, hard-working and still talented enough to go and win games," he said.
"All in the club have to pull together in one direction and hopefully together we can get Aberdeen to where we want it to be."