Whittingham: Portsmouth academy can secure club future
Last updated on .From the section Football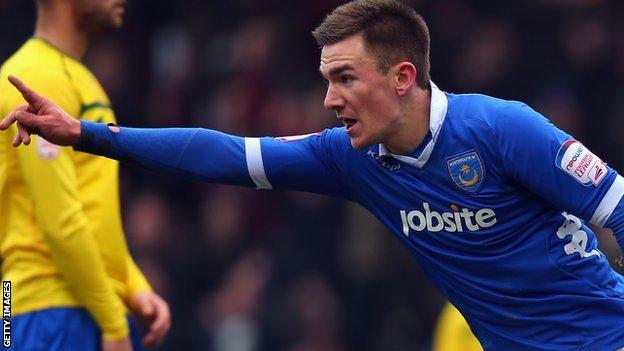 Portsmouth manager Guy Whittingham says developing young players through the academy can secure the club's future.
Whittingham told BBC Late Kick Off South: "The academy is where we're going to be looking for our players.
"We're in a position where we need to develop some home-grown talent because of the situation."
He added: "It's important these young players understand that there's a good possibility that in two or three years' time they could find themselves in the first team.
"It's a way we can look to secure the future here. We need to produce players for the football club.
"But also if you're producing those one or two special players that other clubs become interested in, then hopefully that can pay the way for the academy for years to come.
"We're realistic to the fact that there might be occasions where we have to let them go to keep funding the academy as it is."
Maloney, 18, joins fellow teenagers Ashley Harris, Adam Webster, Dan Butler, and Jed Wallace in Whittingham's first team squad, with Wallace scoring his fourth goal of the season in the 2-0 win over Coventry on Saturday.
And with resources stretched, Whittingham's assistant Andy Awford, the former Pompey defender who is also in charge of the academy, says the club will need a regular supply of young players for years to come.
"In my opinion the club is going to be reliant on its youngsters coming through the system," Awford said.
"So it's vitally important we retain all the staff still at the football club who have played a huge role in keeping the academy alive.
"We've got some very good players in the academy which we are hopeful in years to come will provide the first team with players as we have done this year.
"If we can get two or three through every year then the academy will be self-sufficient because it will pay its own way."