Frimpong targets long Ghana career
By Michael Oti Adjei
BBC Sport, Accra
Last updated on .From the section Football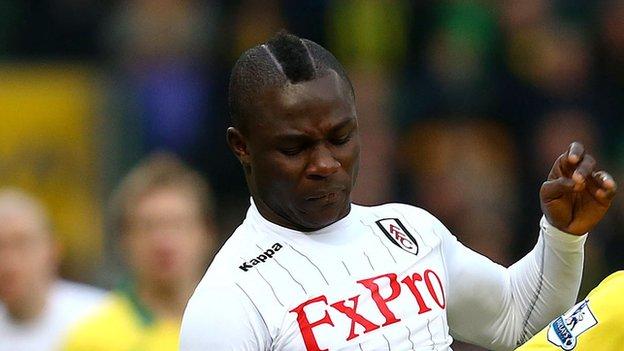 Emmanuel Frimpong has set his sights on a long international career with Ghana after making his debut for the Black Stars on Sunday.
The 20-year old Arsenal midfielder, who is currently loan at Fulham, came on as a second-half substitute for Ghana in the 4-0 win over Sudan 4-0 in their World Cup qualifier.
In making his debut, Frimpong, a former England youth international followed in the footsteps of Quincy Owusu Abeyie and Kevin Prince Boateng who also switched nationalities to represent Ghana at full international level after playing for Netherlands and Germany at youth level.
It was the fulfilment of a lifetime dream fro Frimpong, who had said in 2011 that "I have always told my family if Ghana calls me, I will personally ride my own bicycle from England to Ghana [to play for the Black Stars]".
Perhaps unsurprisingly, he looked visibly tense as he prepared to come on for Rabiu Mohammed and his first few touches went astray but once he settled, Frimpong fitted in well with a team that barely put a foot wrong as they improved their chances of reaching a third straight World Cup finals.
"It's a great day for my family and for me a day I will cherish for the rest of my life", said Frimpong.
"It's a dream come true for me to come and play in Ghana. It's a big opportunity for me and a chance I have waited for this opportunity for a very long time."
Frimpong is aiming to earn a regular place in a side that has always been renowned for the quality of its midfielders and currently boasts Kwadwo Asamoah of Juventus, Evia's Mohammed Rabiu, Sulley Muntari of AC Milan and Udinese's Emmanuel Agyemang Badu.
"I am not here just to play. I am here to learn from these players and take things in," said Frimpong. "I am big admirer of Kwadwo Asamoah for instance and hope I can learn from all of them.
"I am just going to be calm and wait for my chance. I need to take my time, bide my time and do well."
However, Frimpong may find some of his major challenges will come off the pitch given the spate of in-fighting in the Black Stars' set-up that has seen Owusu-Abeyie fall out of favour at international level and Boateng call time on his international career, which lasted just over a year.
There is a feeling in Ghana that some players are switching allegiance to play for Ghana in order to provide a lift to their careers.
While Frimpong's own club future is uncertain, he insists he has no ulterior motive in playing for Ghana.
"I might not be one of the best players in the world but I am a very loyal person," he said.
"I don't play football for the money, I do it because I love it. If I give my commitment to a team, I stick to it. I came here for the long term and I promise you I am going to be here for the long term."