Suspended referee Slim Jdidi on World Cup shortlist
Last updated on .From the section Football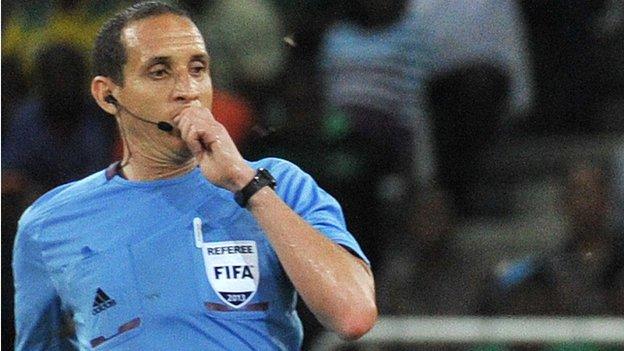 Tunisian referee Slim Jdidi is on Fifa's World Cup shortlist despite being suspended for his performance in the Africa Cup of Nations.
Jdidi was banned indefinitely by the Confederation of African Football after he made a series of errors in the semi-final between Burkina Faso and Ghana.
His biggest mistake was sending off Burkinabe Jonathan Pitropia but the decision was quickly overturned by Caf.
Since the 6 February match Jdidi has only refereed in Tunisia's Ligue I.
But world governing body Fifa has invited him, along with six other prospective World Cup referees from Africa, to attend a seminar in Casablanca from 27-30 April, the latest in a series of training camps, seminars and tests for those being considered to officiate in Brazil next year.
The 42-year-old's performance in the Nations Cup semi-final provoked Caf president Issa Hayatou to admit "we experienced some mistakes with the referees especially at the semi-final between Ghana and Burkina Faso".
As well as sending off Pitroipa for simulation - which he later acknowledged was a mistake - Jdidi also ruled out a legitimate looking goal as well as dismissed a strong penalty claim for the Burkinabe, while handing a dubious spot-kick to opponents Ghana at Nelspruit.
Burkina Faso went on to win the match on penalties and Jdidi was suspended the next day by Caf, who went on to rescind Pitroipa's red card and allow him to play in the final.
Jdidi has not been used for any international assignments since the suspension.
World Cup candidate refereeing teams from other continents will attend similar seminars in Asuncion, Dubai, Fort Lauderdale and Zurich in April.
Fifty-two referees, each with their own designated pair of assistants, have been shortlisted for the World Cup. The list will be cut to 30 for next year's finals in Brazil.