Paulo Sousa says 'intense' Dortmund can repeat success
By Alistair Magowan
BBC Sport
Last updated on .From the section Football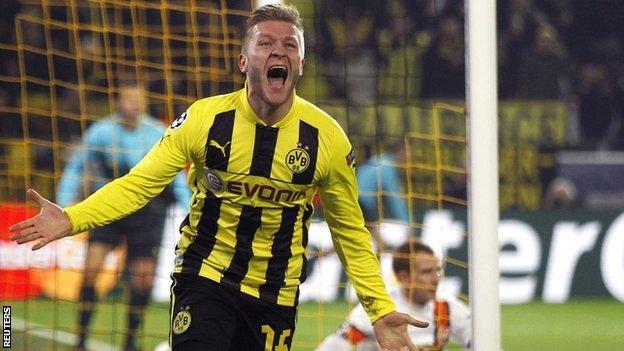 When Paulo Sousa arrived at Borussia Dortmund in the summer of 1996, having just won the Champions League with Juventus, he announced that he was there to lift Europe's most coveted prize again.
"At that moment, everybody thought I was crazy but I was really convinced it could happen," the former midfielder told BBC Sport.
Up until that point, the club's run to the quarter-finals the previous season had been their best performance in the competition. But the Portuguese player backed up his words with deeds as Dortmund convincingly beat Juve a year later to win their first European Cup in the Olympic Stadium in Munich.
Alongside future Aston Villa boss Paul Lambert, who shackled French dynamo Zinedine Zidane, Sousa helped dictate the tempo in the 3-1 victory to reach what he considers the pinnacle of his career.
"At the time, different doctors told me I probably needed to stop playing because of injury and said I would not be at the same level," Sousa, now 42, added. "But the determination to overcome this, the German mentality, the culture and even the weather made me reach my best performance level in football with Dortmund."
The current Dortmund side might hope to repeat that triumph, such has been their form in this season's competition.
They resume their Champions League challenge on Wednesday with a quarter-final first-leg trip to Malaga. It is the first time in 15 years they have reached the last eight, but they are one of only two unbeaten teams left in the competition.
As in 1997, when Dortmund beat French side Auxerre at the same stage, the current German team will be favourites and with the Bundesliga title out of reach as Bayern Munich have opened up a 20-point lead, Jurgen Klopp's exciting team can invest all their energy in attempting to reach the Wembley final in May.
Although Dortmund began this season as German champions, it was their one-sided 1-1 draw with Manchester City in the group stages that made an English audience take notice as goalkeeper Joe Hart single-handedly repelled wave after wave of attacks.
Indeed, by topping a group including Real Madrid and then brushing aside Shakhtar Donetsk in the last round, they have become a side to be feared across Europe.
It is very much in vogue for European coaches to talk about the importance of counter-attacking, where opponents have little time to recover to form a block defence, and Dortmund have had a lot of success with this method in the Bundesliga, having scored eight counter-attacking goals this season, just one behind Bayern Munich and Schalke.
Their return in the Champions League has been less profitable, but as Hart will attest, that has not stemmed their quicksilver approach.
They also like to press high up the pitch with an attacking three of Jakub Blaszczykowski, Mario Goetze and Marco Reus behind lone striker Robert Lewandowski catching the eye.
As Klopp told BBC Sport last month: "Our game is very emotional, very fast, very strong - not boring, no chess. It is tactical but with a big heart. Tactical things are so important, but the emotion makes the difference."
That might sound like an oblique reference, but by inflicting maximum damage at high speed and with a minimal amount of the ball, a young Dortmund side have already demonstrated why they are causing concern for other teams.
According to Uefa, the two legs against Shakhtar Donetsk were the only matches in this year's competition where Dortmund have had more of the ball than the opposition.
And the Dortmund players have covered more combined distance against every team they have faced, bar their opening group game against Ajax.
The 127km the team covered in the return leg in Amsterdam remains a competition high this season, while Klopp's side have on average covered more than 12km per game than their next opponents Malaga.
On their own, those statistics are meaningless but only Bayern Munich, Real Madrid, Paris St-Germain and Juventus have outscored Dortmund in the Champions League this term.
And Sousa says their well-defined approach could be a crucial factor in coming games, with no team able to negate them thus far.
"I believe that Jurgen Klopp understands exactly what is needed for success," the former Swansea, Leicester and QPR manager said. "Their defensive and offensive transitions are much stronger and they are aggressive without the ball, playing with a high line and with real intensity.
"Dortmund are at a similar level to Bayern Munich and they have a great opportunity to progress. They have made improvements to their side, and I watched them against Shakhtar in the last round and I was very impressed.
"They have so many talented players, but their real strength is the team ethic they have developed over recent seasons, which comes from the coaches, the players and from the history of the club."
Some observers class Dortmund's run to the quarter-finals as evidence that they can go all the way and Sousa says they have the winning mentality to repeat their solitary triumph, although he believes Barcelona are favourites for the title.
Guided by the principled and enigmatic Klopp, who has been tipped as a potential successor to Chelsea interim manager Rafael Benitez and Manchester City boss Roberto Mancini, Dortmund's tale has echoes of Athletic Bilbao's run to the Europa League final last season.
The Basque team's energy and technical ability won them new supporters and if Dortmund were to reach that stage of Europe's elite competition, it would seem a lot less crazy than Sousa's boast of 16 years ago.