Scotland can have bright future, insists Mark Wotte
Last updated on .From the section Football30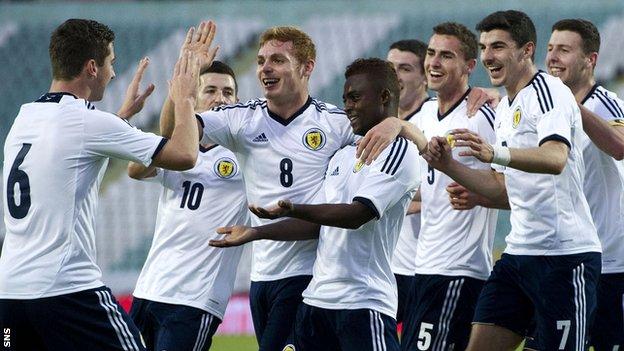 Scotland are on the right track to lift the gloom surrounding the national side, according to Scottish FA performance director Mark Wotte.
But the Dutchman is warning that new coaching methods will take years to bear fruit.
Tuesday's loss in Serbia meant Scotland are the first European team to be eliminated from World Cup qualifying.
However, Wotte, writing in a blog for the SFA, said: "I maintain the seeds have been sown for a brighter future."
Scotland have not qualified for a major tournament since the 1998 World Cup and this campaign has yielded a mere two points from six matches.
"Fifteen years have passed since we last qualified for a major tournament," wrote Wotte. It is too long for a country with such a proud history and such a passionate support.
"We have to change our philosophy and our approach to elite talent identification and development.
"The reality is that in the time since Scotland opened France '98 against Brazil, many nations across the continent have evolved at a rate superior to our own, both physically and technically.
"It will take time but crucially, the process is under way.
"Twelve years ago, Belgium did likewise and now have a generation of top-class players excelling in the top leagues in the world. Spain, once derided as perennial underachievers, have taken world football to a new level of performance.
"Our objective is to make Scotland a force in international football again."
Wotte has overseen the establishment of seven regional performance schools, where 120 of the country's most talented teenagers enjoy a football education as part of the curriculum.
"The first-year intake are 12-years-old," he said. "In eight years' time, they should be established players at their clubs and the best should form part of the national team.
"More time dedicated to individual skills development will only make you a better player."
This is a view shared by former Scotland winger Pat Nevin.
"I was referred to as a natural talent throughout my career but that's nonsense," he told BBC Scotland.
"It was all about the hours I put in.
"It was all about mastering the ball. It's not complicated.
"Yes it helps if you have the right physique and the right mentality but if you don't put in the hours it ain't going to happen."
Explaining that national youth teams are committed to taking on more games against higher-ranked opposition, Wotte also said that the number of internationals would increase to "between 12 and 15 matches, as opposed to between six and eight in previous years".
"We need to ensure that the best young players are given an opportunity play in the Scottish Premier League and that we add to their experience and development by providing international exposure," he added.
Nevin, who won 28 caps for Scotland, also stresses the importance of first team exposure for emerging talents.
"If you are going to become an elite performer, you must be playing at a pro level from 17, 18 at the very latest," explained the BBC pundit.
"Growth gets stunted when players aren't tested week-in, week-out.
"The power of the English Premier League is absolutely extraordinary - it maybe drains us of our best players - even the Championship.
"Players going down there don't always get the opportunities early.
"A lot of our best young players don't break through - even in the SPL when we had too many foreign imports."
Nevin shares the pain of Scotland supporters smarting from a record seven consecutive competitive matches without a win and, like Wotte and manager Gordon Strachan, says there is no easy short-term solution.
"Expectations should be high at elite level," said the former Chelsea and Everton star.
"We used to punch above our weight because we had a head start for a variety of reasons but other countries have caught up.
"We've been trying to do the right things for the last 10 years or so but people want a quick fix. It doesn't work like that - it takes a generation."