Jonathan Williams holds promise of bright Wales future
By Bruce Pope
BBC Sport Wales
Last updated on .From the section Welsh64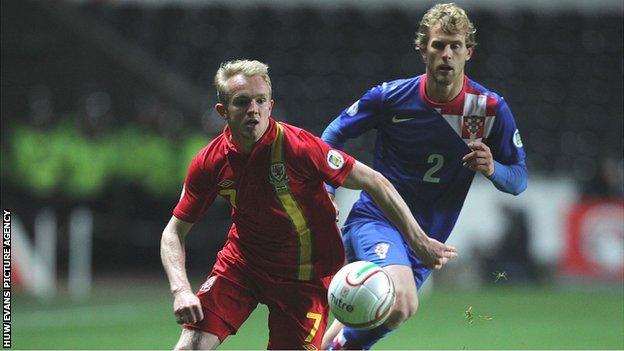 It is rare that Wales managers find themselves spoilt for choice, but Chris Coleman may now have some tricky selection dilemmas in midfield after the debut of Jonathan Williams.
The 19-year-old Crystal Palace player came off the bench to win his first cap in Friday's 2-1 victory away to Scotland in their 2014 World Cup qualifying match.
He then made his first start on Tuesday night in Swansea, as Wales suffered the heartbreak of Eduardo's late goal to lose 2-1 to Croatia at the Liberty Stadium.
Williams was called into the Wales squad for the World Cup qualifiers against Belgium and Serbia in 2012 and has been part of the senior set-up ever since.
But it took a string of injuries - to senior midfielders David Vaughan, Joe Allen, David Edwards and Andy Croft - for Coleman to unleash Williams off the bench against Scotland.
The youngster entered the hurly-burly of Hampden at half-time in place of Gareth Bale, who was hampered by a virus and an ankle knock.
The travelling fans were fearing the worst with their star man off the pitch and Wales trailing 1-0, but Williams slotted impressively into midfield as Coleman's side staged a thrilling comeback.
Williams' performance might have earned him a start against Croatia as of right, but the late sending-off of Arsenal's Aaron Ramsey - earning an automatic one-match ban - and an injury to Jack Collison guaranteed the Palace man his chance.
"It's a bit weird, I never thought it would happen to be honest but now I've played my second game I only want more and it's great to be a part of this up-and-coming Welsh team," Williams said.
"We showed in the first half what this nation can do, we carried our form from Scotland definitely and it was a really good performance.
"We knew they were going to come onto us because they had to win... it's just a shame we couldn't hang on at the end.
"It showed we can play a good game against these top teams, so it's only a positive in my eyes."
If the Scotland game was Wales standing up to the rough and tumble of a British derby, the match in Swansea was Coleman's developing side aiming to match the slick passing and interchanging of Croatia.
Williams, who has come through the academy ranks at Selhurst Park, often found himself in direct confrontation with Real Madrid's £33m fulcrum Luka Modric.
The youngster rose to the challenge but admits he felt like pinching himself at times.
"It was a bit weird to be honest," Williams admitted. "I was smiling inside when he was playing and running with the ball and I was playing against him - it was funny! But I thought we did well for the majority of the game to keep him at bay.
"But they worked us down in the end and they're a good team to play against. You can't fault the boys' effort and we gave our all."
Williams has earned the nickname 'Joniesta' from Palace fans since breaking into the first team at the start of last season, eager to compare the 5ft 6in teenager to Barcelona and Spain's diminutive playmaker Andres Iniesta.
Joniesta's jousting with Modric and Ivan Strinic at the Liberty Stadium was a little El Clasico all of its own amid the thrust and counter-thrust of a highly entertaining international.
Croatia - ranked ninth in the world compared to Wales in 71st - survived their scare after trailing to Bale's penalty and eventually prevailed thanks to Eduardo's 87th-minute winner.
After the match, Coleman was generous with his praise for Williams, who had received a standing ovation from the home fans.
"In the next couple of trips you will be asking me about Johnny as much as you do about Gareth," said Coleman.
"He will go to another level and you can see why everyone is so excited. He's still got a lot of work to do but he's certainly a gifted player."
Williams, who was born in Pembury, Kent, qualifies for Wales through his Anglesey-born father and has represented Wales at every level from Under-15.
"It's fantastic to see what I've achieved after the journey through the youth system and it was really good to be playing with Bale, [Craig] Bellamy and those kind of players," Williams said.
"Even though I was born in England I've never really had the call from them... it was always Wales that showed that, when I was 14, and I've enjoyed every minute of it.
"It's just a dream come true to be in the first team now and it's just great to be fit and playing to be honest, because of all the injuries I've had."
Williams suffered a fractured fibula whilst playing for Wales Under-21s in November 2011 and was out for four months.
The youngster admits that at first he feared the worst but says that the experience has made him cherish every moment of his fledgling career.
"I just think back to when I was lying on my settee with my leg up in the air with a red and blue cast on," Williams said.
"It's just amazing to be playing and after each game I come off the pitch - whether I've played okay or think I could have done better - I think 'I'm still fit' so that's the main plus for me and I'm happy.
"The physios reassured me that there was nothing to be worried about and I'd be okay, and I'd come back stronger from this and I have. I listened to them, I trusted them and it's just great to be playing."