Bosman lawyer Dupont warns Uefa over Financial Fair Play
Last updated on .From the section Football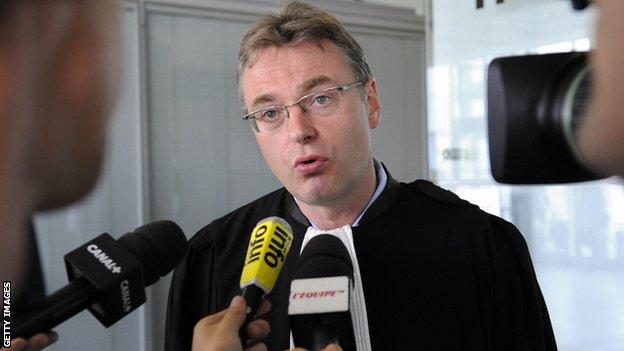 A lawyer who helped win the landmark Bosman Ruling says new Uefa Financial Fair Play (FFP) regulations would not stand up to a legal challenge.
But Jean-Louis Dupont claims FFP will breach European competition law.
He said the rule "likely constitutes collusion and hence a violation of European Union competition law."
Dupont was part of the legal team that won the landmark Bosman ruling in the 1990s and who led the case that forced Fifa and Uefa to compensate clubs for players being on international duty.
Writing a column in the Wall Street Journal, Dupont added: "FFP may also infringe other EU freedoms such as the free movement of workers and services.
"Even if FFP were sufficiently legitimate and necessary to justify its distortions of EU principles, however, it would still have to clear a final hurdle: proportionality.
"Uefa would need to convince the EU's judges in Luxembourg that FFP is the least restrictive means of achieving its aims. This seems unlikely."
Uefa defended the rules and insisted FFP will stimulate competition.
"Uefa is aware, that there are large differences between the comparative wealth of different clubs and countries, but Financial Fair Play does not have financial equality as its objective," a spokesman for European football's governing body said.
"However, more investors should be attracted if club football is more sustainable and those clubs with sustainable and stable business models will be in a position to become more competitive."