Oxford Ladies can beat Super League Everton - Meade
Last updated on .From the section Football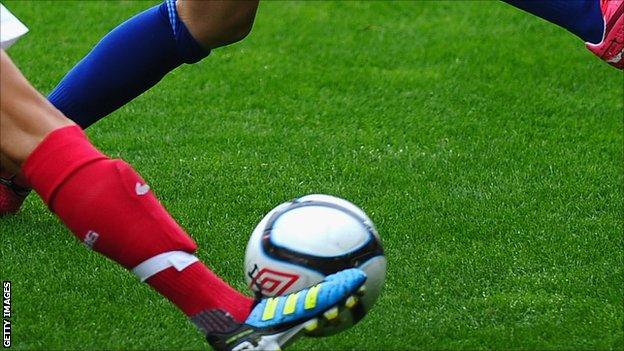 Oxford Ladies defender Isi Meade says her side can overcome their Super League opponents Everton in their FA Women's Cup tie on Saturday.
And Meade says the Us can add another name to that list this weekend.
"Charlton were two leagues above us and Everton are three but anyone is beatable," she told BBC Radio Oxford.
"We're getting used to being the underdogs now, but we just play our own game.
"We try not to change anything - what we do, we do well.
"Going toe-to-toe with some England internationals will be such a good experience.
"I'm one of the youngest members of the team so to play against them and see the quality of players that they have, I can see where I could potentially be in a couple of years time."
The winners of the re-arranged tie will face Bristol Academy, who have recently announced a sponsorship deal with Bristol City, in the sixth round.
And Oxford's 18-year-old full-back said a big attendance at the Kassam Stadium will be a huge factor in the match's outcome.
She said: "We had over 750 for the Newcastle game and we're hoping for even more against Everton.
"They're a bigger club and a really, really good side.
"Having a big crowd gives you a bit of a confidence boost, and you know they're right behind you, trying to support you."
Oxford are enjoying a successful season having lost just once in all competitions and are second in the South West Combination League by just two points.
But Meade insists the league is still the priority for Oxford Ladies despite their eye-catching cup exploits, and promotion could help in their bid for a place in the Women's Super League.
She said: "The Cup run is great and we're doing so well but our main priority is to get promoted, win the league and continue on from there.
"With our Super League bid over 50 teams have applied for eight places I believe.
"If we got in there it's a different standard of football completely and one that we should be competing at."