Coventry City deducted 10 points by the Football League
Last updated on .From the section Football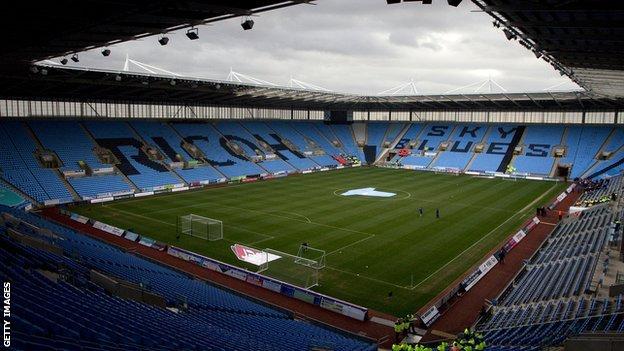 Coventry City have been deducted 10 points by the Football League.
A High Court hearing in London on Tuesday ruled that the League One club was "in administration".
The move follows a long-running a row with their Ricoh Arena landlords, Arena Coventry Ltd, over a year's unpaid rent of £1.3m.
The deduction means the Sky Blues, who have seven days to appeal against the decision, slip from 10th to 14th in the table.
In a statement, Coventry said they were "disappointed by the decision" but added that they "understand the Football League's course of action in accordance with its rules and regulations.
It continued: "We welcome the offer for further dialogue which we hope to commence at the earliest available opportunity.
"Coventry City Football Club has the right to appeal the decision within seven days and discussions have already started with regards to the club's next official course of action."
The news is the culmination of a series of events which began a week ago, when it was announced that Coventry City Football Club Ltd, the non-operating subsidiary company that held the lease and licence for the Ricoh Arena, was to go into administration.
Sisu, the consortium which owns the Sky Blues, argued that the company did not hold any assets or staff of its own.
However, the Football League have responded to news from the High Court hearing by taking the 10 points away from the Sky Blues.
The move all but ends Coventry's hopes of making the play-offs - they are now 15 points behind sixth-placed Sheffield United with only six games remaining.
But they appear to be safe from any danger of relegation - 21st placed Scunthorpe are 12 points behind Steven Pressley's side.
Coventry, however, will be boosted by the agreement with ACL which sees them playing their final three homes games of the season at the Ricoh Arena.
The location of Friday's home fixture against Doncaster had previously been in doubt, after last week the Sky Blues moved all staff and club shop stock from the Ricoh Arena to their training ground.
Despite their financial state, the Sky Blues have been attracting interest from American property tycoon Preston Haskell IV, who has visited Coventry to analyse the club first hand.