Andre Villas-Boas says Spurs are on course for top-four finish
Last updated on .From the section Football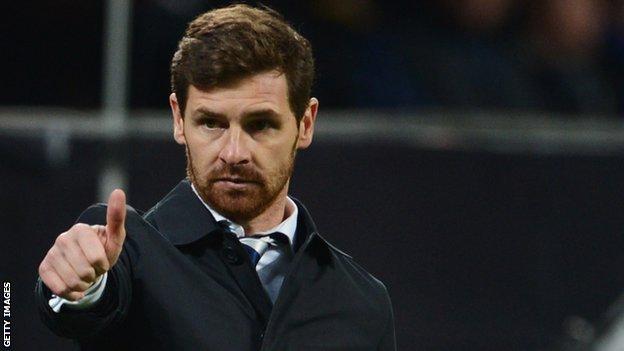 Tottenham manager Andre Villas-Boas has urged his players to forget about missing out on a place in the Champions League over the last two seasons.
His side looked on course to finish in the top four but back-to-back Premier League defeats has seen Chelsea move above them and Arsenal close the gap.
But Villas-Boas does not expect Spurs to miss out on qualification this time.
"This has happened before but it doesn't mean it has to happen again this year," said the 35-year-old.
After qualifying for the Champions League in 2009-10, Tottenham finished fifth a year later. They claimed fourth last season but missed out on a place in the Champions League to Chelsea after the Blues won the competition.
A defeat at Liverpool followed by a home loss to Fulham has led to concerns that Spurs could lose out for a third season running.
But Villas-Boas says they are on course to reach 70 points, which he believes will be enough to finish in the top four.
"At the moment it has nothing to do with past experience. We are perfectly within our objectives," he added.
"Seventy is usually enough to be in the four spots. There are 24 points to be played for so that means we need 16 more points.
"You never know, but I think at this time we are within our objectives."
The Portuguese has been boosted by midfielder Gareth Bale's return to fitness after playing for Wales on Tuesday.
"For us club coaches we are happier when players return with no injuries," said Villas-Boas.