England fans reported for 'racist abuse' of Ferdinand brothers
Last updated on .From the section Football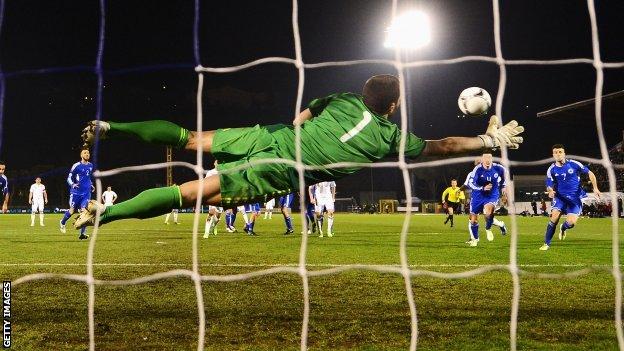 Football anti-racism network Fare has filed a complaint to Fifa over alleged racist chanting by England fans during the 8-0 win over San Marino.
The chanting was said to be directed towards Rio Ferdinand, who pulled out of the England squad, and his brother Anton Ferdinand.
Fare executive director Piara Power said: "I personally think there was an undercurrent of race there.
"Other people have thought that it has been imbued with racist overtones."
The Football Association said it would not comment while it was awaiting notification from Fare about its report to the sport's world governing body.
Power added: "Although we did not have observers at the match we have pulled together evidence sent to us including media comment and have passed that on to Fifa.
"Whether Fifa think that is strong enough to take action is another question entirely and we accept that it is certainly an unusual report."
The network, Football Against Racism in Europe, is a group of organisations from several European countries which has worked with Fifa and European governing body Uefa to eradicate discrimination in football.
Manchester United defender Rio Ferdinand was called up into the England squad for the first time since 2011, but then withdrew stating that he had a "pre-planned programme". It was then reported that the 34-year-old would be travelling to Qatar to work as a television pundit covering the game in San Marino.
England went on to thrash the minnows in Serraville, before travelling to Montenegro, where they were held to a 1-1 draw by the Group H leaders.
England coach Roy Hodgson said after the first qualifier that he had heard the abuse, adding: "I'm not deaf. But I've absolutely no comment to make on it."
Meanwhile, Uefa has again encouraged referees to halt matches if officials are aware of any racism.
The executive committee said it "recommends and fully supports referees to stop matches in cases of racism and calls on national associations and leagues to do the same" in a resolution drawn up by the Professional Football Strategy Council (PFSC) and ratified on Thursday.
Uefa also called "on the players and coaches - namely those with most influence on the perpetrators of racist acts - to speak out, even if this may mean criticising their own fans or players."