Alleged Ferdinand racist chants 'hearsay' - fan group
By David Ornstein
BBC Sport
Last updated on .From the section Football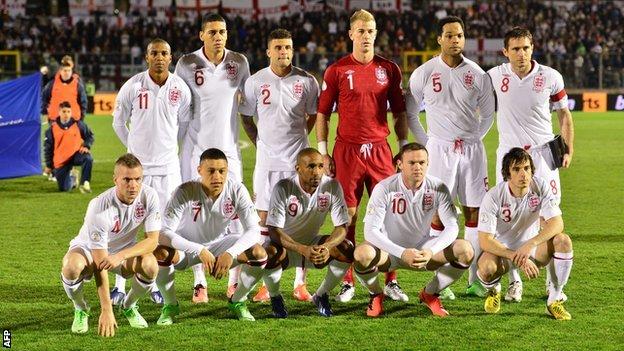 The Football Supporters' Federation has criticised anti-racism network Fare for reporting alleged racist chanting by England fans on the basis of "hearsay".
Fare to Fifa after an offensive song was said to be aimed at Rio Ferdinand and his brother Anton during the
But Kevin Miles of the FSF told BBC Sport he heard no racist chanting.
He said: "The idea that England fans should be reported for what is effectively hearsay is dangerous."
In a statement the Football Association said its security officers monitored the English supporters in the stadium and had access to recorded video footage.
It said: "While we have no reason to dispute the media reports, which are without doubt made for the right reasons of fighting racism, at this time we have not found any recorded evidence of the specific discriminatory chanting referring to Rio and Anton Ferdinand."
Fare did not have its own observers at the match and said it had pulled together evidence, including "media comment".
The Daily Mirror reported on Wednesday, 27 March that some England fans sang a song during the World Cup qualifier on Friday, 22 March suggesting the brothers be burned on a bonfire.
"It's sad that it's been done without any reference to the FA, or supporters organisations, from the point of view of trying to find a constructive solution to these things - if there's any evidence it's taken place," said FSF chief executive Miles.
Ferdinand was for the first time since 2011 for the double-header against San Marino and but withdrew stating he had a "pre-planned programme".
The 34-year-old then to work as a TV pundit covering the San Marino game.
It has been claimed the alleged chanting had racist overtones as by former England captain John Terry.
"There was certainly a lot of antipathy towards Rio Ferdinand among the England fans in San Marino," added Miles.
"From my experience, it was not racially motivated - it was much more to do with the fact that he chose not to join the England squad and was then summarising for Al Jazeera.
"There were chants of expressive disapproval at that - perhaps not in the most tasteful way, but not to my opinion racially motivated."
When asked about the alleged bonfire song, Miles replied: "I didn't hear that at all. It certainly wasn't heard in my earshot.
"One of the difficulties in this is that the England support was split over two stands on opposite sides of the pitch and I can only say with absolute certainty what I heard. But I did not hear any chanting towards Rio Ferdinand or anybody else that was racially motivated."
The Daily Mirror also reported that England fans repeatedly chanted "Rio Ferdinand, we know what you are".
But Miles countered: "They were singing 'We know where you are' with reference to him being in Dubai."
He admitted there has been an issue with racism among England supporters in the past, but insisted this case was different.
"There was a general satisfaction with the performance of the replacement centre-halves and given that Chris Smalling and Joleon Lescott are black, that would suggest it wasn't a general racially motivated opposition towards black players in the England team", he said.
"There were particularly bad experiences when we played a friendly in France in 2000. I thought there was widespread racism among the England fans and we took that up as an organisation.
"However, we have to make sure this is approached in a constructive and proportionate way - and I don't think that's been done in this particular case."