2014 World Cup: Nigeria win case to switch qualifiers
Last updated on .From the section Football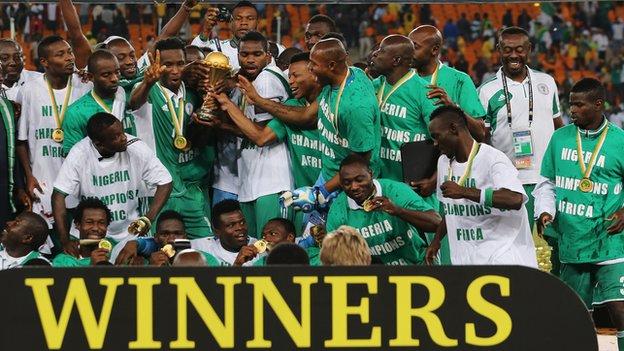 The Nigeria Football Federation's request to change the dates of two 2014 World Cup qualifiers in June has been approved by world governing body Fifa.
After Fifa adjusted Nigeria's qualifiers ahead of their Confederations Cup matches in June, the NFF asked for the other matches in Group F to be moved to the same dates.
Fifa has now moved all the group's ties to 5 June and 12 June.
Nigeria had feared their rivals would otherwise earn an unfair advantage.
Due to their participation in the Confederation Cup, Nigeria's World Cup qualifiers against Kenya and Namibia were brought forward a week from the 8th and 15th respectively.
It allows the African champions to travel to compete in the tournament in Brazil, featuring world champions Spain, the six continental champions and World Cup hosts Brazil, which kicks off on 15 June.
Nigeria are top of their qualifying group ahead of Malawi on goal difference - both sides have five points from three matches so far.
Before Fifa's ruling, the NFF's general secretary Musa Amadu explained why they made the formal request.
"We make this request in the interest of fairness, as at the moment, Nigeria and Malawi have same number of points (five) and for Nigeria to play two days before Malawi in each of the two important qualifying games in June will give undue advantage to the Malawians," he said.
"We see the Confederations Cup as a key tournament, but we also know we have to qualify for the 2014 World Cup finals as priority.
"It is important to us to go to the Fifa Confederations Cup and then return to Brazil a year later for the FIFA World Cup finals."