Celtic boss believes Scotland deserve better from players
Last updated on .From the section Football96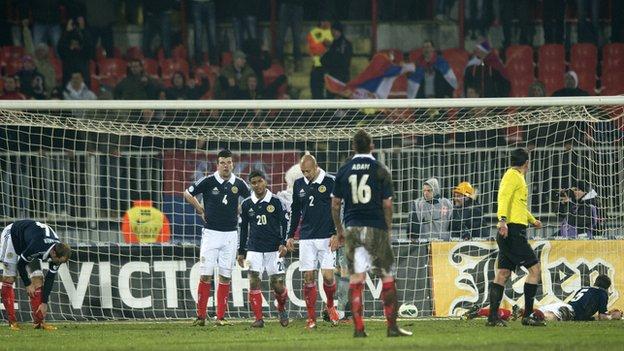 Celtic manager Neil Lennon has questioned the hunger of some Scotland players.
The Scots have no chance of qualifying for the World Cup finals in Brazil, sitting bottom of Group A with two points.
And Lennon said the side, who lost to Serbia in midweek, should offer more.
"I think in terms of the national team they have to leave their egos at the door and sacrifice a bit more for their country," he said.
"I'm not here to question any player but it just seems to me that there have been sagas over the years when I've been up here.
"Ill discipline, players walking out of squads and refusing to play for Scotland again - that to me is a worry."
Scotland have lost four consecutive games in World Cup qualification, with four games left including two against Croatia in what has proved a miserable campaign.
Lennon thinks Gordon Strachan is the right man for Scotland but believes implementing strategies from three decades ago could help Scottish football progress in the here and now.
He said: "20 or 30 years ago Scotland were producing a seam of top quality players and that seems to have lessened over the years.
"We're more socially affluent now than we were maybe 20 or 30 years ago and sometimes I question the hunger.
"I started 25 years ago and it was a YTS system then. I started at Man City and that seemed to work well.
"We were cleaning boots, cleaning toilets - that was part of our remit during the day.
"You don't see that as much now and maybe we should bring that level of discipline back at a younger age and they may appreciate the game a little bit more when they come through.
"It would be great if we found a crop like Alex Ferguson did in the mid-1990s, we all want that. We want to find our own."
And Lennon stressed he was not just questioning the hunger of young players these days, but that of more seasoned professionals, too.
"I think players are comfortable at the clubs and it looks to me like it becomes a bit of a chore rather than a privilege to play for their countries," he said.
"You look at countries like Montenegro and Uruguay who are smaller, but they have a real hunger and a real love for playing for their country."
Celtic visit St Mirren on Sunday in the Scottish Premier League, with Lennon happy with the youngsters his club's academy is bringing through.
"We've already got [James] Forrest, we've had [Aiden] McGeady and we've got some younger players coming through.
"Tony Watt, Dylan McGeouch, Marcus Fraser - our system is working well and we feel we've got the best youngsters around and we want to bring them on."