SPL quality has dropped, says Ross County winger Ivan Sproule

By Heather Dewar
BBC Scotland
Last updated on .From the section Football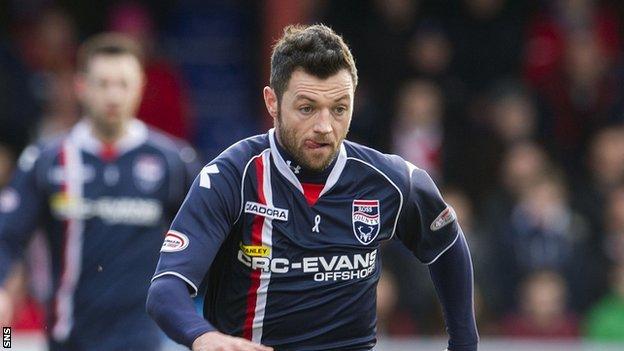 Ross County winger Ivan Sproule believes the standard of play in the Scottish Premier League has diminished but points to its added competitiveness as one of its attractions.
He said: "For me who has been about the SPL for quite a while and been down in England, Scottish football and the SPL is not as strong as it used to be.
"What happened with Rangers has made the league so tight and so competitive.
"I don't believe there is anyone miles ahead of ourselves."
Sproule, now 32, joined Hibernian eight years ago after playing part-time football with Omagh Town and Institute in his native Northern Ireland.
His move to Easter Road put his engineering career on hold and after more than 70 games for the Edinburgh club he moved to Bristol City, and had loan spells at Yeovil and Notts County before returning to Hibs in 2011.
and, with renewed vigour, he has scored five goals and contributed two assist in eight starts for the Dingwall side.
Sproule is ambivalent about the SPL: he is immensely proud that Ross County sit in second spot and believes it is a good thing that any team, on a good day, can beat another; yet he fears Rangers' plight in the lower leagues has diminished the league.
"It boils down to one thing - money," said the Northern Ireland international, who is generally not in favour of league reconstruction.
"A lot of players are vaulting down to the Championship and League One. It's hard to hold on to your talent. The cream of the players are getting picked off.
"It would be nice to see players staying longer and getting a bit more football time.
"I still think there are lots of good players in the SPL and there have been some terrific games.
"I'm not painting a doom and gloom picture of it; it's a level playing field now."
Sproule made a name for himself in 2005 when he scored three goals past Rangers goalkeeper Ronald Waterreus as Hibs won 3-0 at Ibrox.
And he would like to see the Light Blues, on the verge of winning the Third Division, back in the top tier.
"You always want to see the big clubs and for me Rangers are one of the biggest clubs in Europe," he said.
"Without them in the SPL it is probably not as attractive a league for other players to come in to the country.
"But on the flip side the league has been a lot tighter. I know Celtic have stormed away with it now but it was tight for a good while.
"It's an effect that can go one of two ways but I'll be glad when Rangers are back in the SPL because Scottish football really needs them."
Sproule believes County are "taking large steps very quickly" and hopes to help them secure, at the very least, a top-six finish.
"A lot of people tipped Ross County to be the whipping boys. The team have worked extremely hard," said the winger.
"The players have realised they are more than capable of playing at this level.
"The unfortunate thing for us is they have got some admirers. Hopefully they will come back for another strong season."
Sproule describes Adams as "a young manager making a great name for himself" and is delighted that Derek McInnes and not the County boss will take over from Craig Brown at Aberdeen.
"The fans and players are glad to have him," he said.
"Ross County are ambitious. They seem to have a way of running the club without getting into trouble financially. The manager knows what he is building here.
"If they can keep progressing hopefully they can become a formidable force in the SPL for years to come."