Clubs must focus on current proposal - Neil Doncaster
By Jane Lewis
BBC Scotland
Last updated on .From the section Football83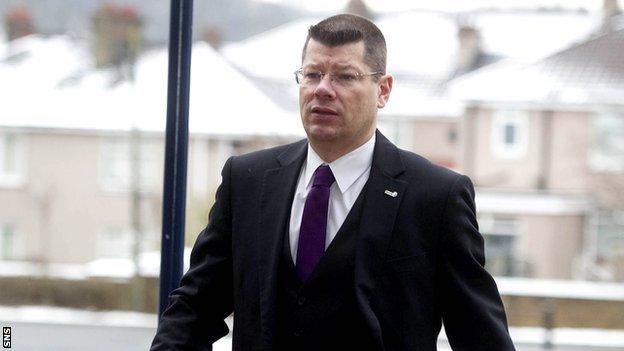 Neil Doncaster is refusing to consider any alternative to the raft of restructuring plans to be voted on by clubs on 15 April.
The Scottish Premier League's chief executive insists clubs should not be swayed by talk of alternative proposals to
He told BBC Scotland: "It is vital that we do not get distracted from the task in hand.
"It is very easy to start chipping away at a deal."
Newspaper reports on Friday suggested some Scottish Football League clubs might not approve the proposals in time for next season, leaving the prospect of some clubs being invited to join an SPL2.
But as far as Doncaster is concerned, the proposal for a 12-12-18 set-up, with changes to governance and income distribution, is deliverable in time for next season,
"Making predictions about anything in football is a difficult thing to do," he told BBC Radio Scotland's Sportsound.
"We agreed a deal on 8 January - myself, David Longmuir and Stewart Regan - that would deliver so many of things that we want to see in the game.
"It would deliver playoffs, a fairer distribution of income, a pyramid system so that ambitious clubs can come through, and a single league body."
And on the issue of holding the changes back for another year, Doncaster added: "I am surprised that, the deal having been agreed in principle, people should now be thinking about delaying it.
"I don't see what the benefits of a delay are at all.
"I see huge benefits, particularly to the First Division clubs who are crying out for the money, in making it happen this summer.
"We see the situation at Dunfermline. You cannot run full-time professional football on the sorts of money that are able to be distributed to SFL1 at the moment.
"We believe that the top league is only as strong as the division under it.
"We need to get as much money as we can into that second tier so that the likes of Dunfermline, Hamilton, Thistle, Morton can all run a full-time professional outfit."
Doncaster said he attended an SFL meeting on Thursday to hear the concerns of clubs under that body but he would not be drawn on the prospect on a scenario where SPL clubs vote in favour of the plans while SFL clubs do not back it in sufficient numbers.
He said: "Speculation like that is unhelpful. It is far more important that we devote as much energy as we can to implementing the deal that we agreed in January.
"Fundamentally this is a package of measures. No-one will like everything within it but it's a package which delivers so many of the things that we want.
"So many times when we have been on the verge of progress, if you delay you lose the moment and it doesn't come back.
"There is a plan A and that is what we have to focus on. There is no 'undue haste', as has been termed by some people, to make this happen but there is a real urgency to do it."
Asked if he thought the proposal would be approved, he replied: "We'll have to wait and see. We have a formal vote on 15 April and we'll see what emerges from that.
"The documents have come out, the clubs got them on Sunday. For the first time the clubs will vote on something concrete. Everything up until that date is a discussion and a vote in principle."