European spot may decide my Everton future - David Moyes
Last updated on .From the section Football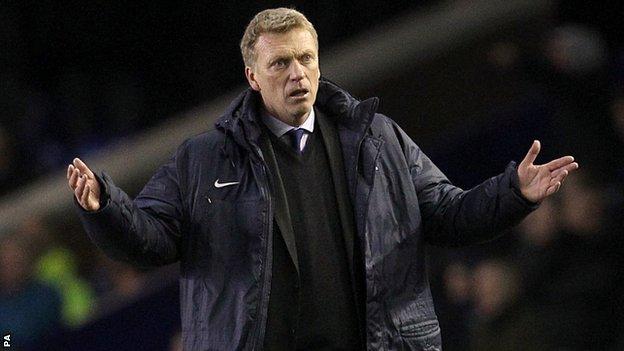 Everton manager David Moyes has said that European qualification will play a major role in deciding whether he extends his 11-year stay at the club.
Moyes, 49, is out of contract at the end of the current campaign.
Saturday's 1-0 win against Stoke moved Everton to within four points of the final Champions League spot and two points away from a Europa League place.
"The only thing I am interested in is managing winning teams that are regularly in Europe," he told the BBC.
"I have always said we should wait until the end of the season, because by that time we will see where the club is and how we can move forward.
"That is big for me, as I want to know if there is a chance that Everton in the future can continue to compete at this level and if anything, get better."
Moyes arrived at Goodison Park in 2002 following a successful spell as manager at Preston North End.
Since finishing fourth in 2004-05 and subsequently going out in the Champions League qualifiers, Everton have secured seven top-eight finishes in the last eight seasons but have not played in a continental competition since exiting the Europa League in 2010.
The Scot originally said he would wait until after the January transfer window before making clear his plans. He then stated last month that it was "more than likely" he would wait until the end of the season to make a decision on his future.
Everton have been around the top-five positions all season. Thanks to Kevin Mirallas's stunning solo effort at Goodison Park, they have now closed on Chelsea and kept pace with Arsenal as they bid to end the season on a high.
"All the home games are crucial as the points are vital," Moyes said. "It was tight, they [Stoke] had a couple of chances mainly from set-pieces.
"Against Stoke because they are so well organised, you have to play really well or an individual player can make the difference. Today, I saw Kevin [Mirallas] pick the ball up 30-yards inside our own half and I thought 'Go on Kev'.
"He has pace and the ability to play in a number of different positions. Sometimes it takes a bit of time for players like him to settle."
Everton's fate now hangs largely on the results of their upcoming trips to fellow European contenders Tottenham, Arsenal, Liverpool and Chelsea.