Champions League: Barcelona in buoyant mood ahead of PSG tie
Last updated on .From the section Football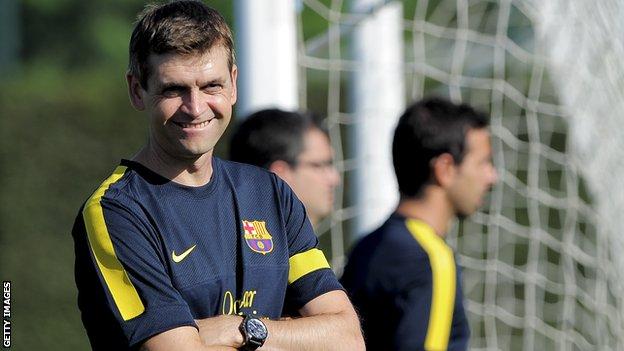 Barcelona embarked upon their short journey across the Pyrenees for Tuesday night's Champions League quarter final first leg with Paris St-Germain in an irrepressibly positive mood.
Not only do the Catalan club still have the memory of their spectacular comeback in the previous round against AC Milan fresh in their minds, they are also buoyed by the feel-good factor that has resulted from the recent returns of coach Tito Vilanova and defender Eric Abidal following serious health issues.
Manager Vilanova underwent surgery for throat cancer in late December and subsequently spent more than two months in New York City to receive a programme of treatment before flying back to Barcelona last Tuesday.
He is gradually easing himself back into work responsibilities and did not travel to the 2-2 draw with Celta Vigo on Saturday, but oversaw the squad's pre and post-match training sessions on Friday and Sunday.
Vilanova has made the trip to Paris and his assistant Jordi Roura - who has looked after first-team affairs during his boss's absence and will carry out his club's media duties - has stated there's a "good chance" that Vilanova will be alongside him in the dug-out on Tuesday night for the first time since mid-January.
The other returnee is left-back Abidal, who has not played a competitive game for more than a year after a liver transplant last April.
The 33-year-old Frenchman has been working with enormous dedication to regain fitness and he finally laced up his boots in earnest 10 days ago for a successful 65-minute appearance in a reserve-team friendly against French second division side Istres, followed by a place on the bench for Saturday's game at Vigo.
There's no chance that Abidal will be named in the starting line-up in Paris - he's been out of action far too long for that to be a realistic option on the back of one run-out with the reserves - but he's certainly a genuine candidate to appear as a substitute in the final stages if required, especially with first choice left-back Jordi Alba only just recovered from a hamstring injury.
And, of course, the prospect of the enormously popular French international Abidal making his return to the big stage in his home nation's capital city adds even more resonance to his morale-boosting comeback.
However, one danger is lurking ominously in the form of a black sheep who is ready and waiting to spoil the positive vibe - PSG striker Zlatan Ibrahimovic.
The former Barca player will be available to lead the line for PSG after Uefa reduced his ban for a red card in the first leg of the previous round against Valencia, meaning he has already served his suspension.
Ibrahimovic joined Barcelona from Inter Milan in the summer of 2009 in a hugely expensive transfer that involved Barcelona handing over a fee of 46m euros plus star striker Samuel Eto'o, making the deal worth a staggering total of 66m euros.
To suggest the move was a total disaster would be an overstatement - Ibrahimovic managed a perfectly respectable tally of 16 league goals as the Catalan club won the title.
But, more significantly, they were knocked out of the Champions League in the semi-final by Inter, of all teams, with Barca coach Pep Guardiola's increasing lack of trust in his expensive recruit glaringly highlighted by the fact that he substituted the Swede with half-an-hour remaining as his team chased two goals in the decisive second leg.
Indeed, Guardiola and Ibrahimovic endured a frosty relationship that more than occasionally broke out into downright hostility and it was no surprise when the striker was jettisoned to AC Milan, at a great financial loss, after just a year at the Nou Camp, with the perhaps belated conclusion that his style of play - and his mindset - simply didn't fulfil Guardiola's requirements.
But there's still an enormous respect for the Swede's enigmatic talents and Uefa's decision to reduce his ban made front page news in the Catalan press.
Tuesday night won't be the first time that Barcelona and Ibrahimovic have crossed swords since his departure - they went head to head in last season's Champions League as Barca knocked out AC Milan in the quarter finals - and the striker will still feel he has a point to prove against the club that never really saw the best of him.
With Vilanova and Abidal back in the ranks, though, Barca won't be too concerned. Seeing their manager and a vastly respected senior player battle against serious illness has genuinely affected everyone at Barcelona this season, providing context for their footballing endeavours.
Club president Sandro Rosell has repeatedly insisted that the recoveries of Vilanova and Abidal are far more important than winning trophies, but health and success needn't necessarily be mutually exclusive. In fact, it could be argued that their off-pitch worries have even made Barcelona a better team because they have become a closer, tighter-knit group as a result.
When Barca's players were presented to the Nou Camp crowd before a pre-season friendly against Sampdoria in August, Vilanova took the microphone to express a powerful message of solidarity with Abidal, emotionally stating: "Your struggle is our strength."
The club since has turned that phrase around and directed it towards Vilanova himself, and the fraternal feeling that has been instilled by the illnesses of their coach and veteran defender has certainly allowed Barcelona to look, and feel, very strong indeed as they head to Paris.