Hearts: Owner Vladimir Romanov 'loses' all his assets

By Brian McLauchlin
BBC Scotland
Last updated on .From the section Football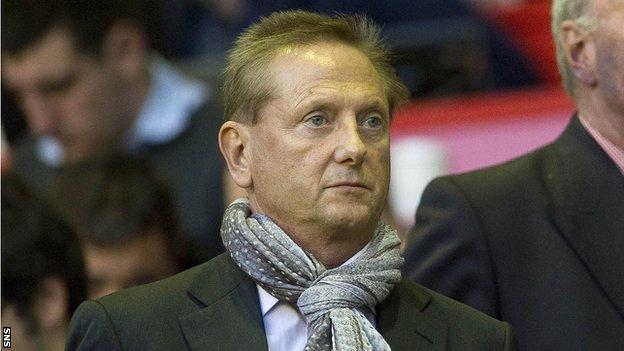 Hearts owner Vladimir Romanov has told BBC Scotland the collapse of his bank in Lithuania has led to him losing all his assets.
Ukio Bankas is in interim administration with debts approaching £380m.
Romanov still controls Hearts as he remains the main shareholder in UBIG, the parent company of the club.
"All of our savings, all our companies, all of our activities were all in the bank," he said. "We have lost it."
The businessman claims to have spent around £60m on Hearts but plans to sell control of the club to supporters.
"We have a plan to sell 51% of the club to the fans," he explained. "Maybe it won't happen straight away, but we would like to realise it."
Representatives of Romanov to find a pathway for the sale of shares to take place.
However, he refused to be drawn on how much it would cost the fans.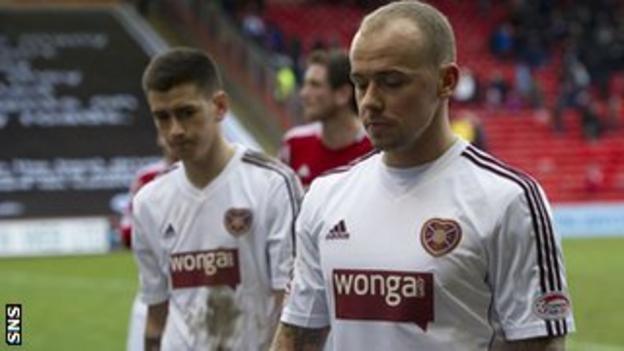 "I don't care about the price," said Romanov. "It will be up to the administration of the club to calculate the share price.
"Before, the club always had losses but now they are making a tiny profit and now it does not require an injection of money."
The collapse of the bank has hit Romanov's sporting interest in Lithuania.
Zalgiris BC are the main basketball team in the country and play in the Euroleague, which is the sport's equivalent of football's Champions League.
Ukio Bankas were the sponsors of the club and players have been paid in only three of the past seven months.
"You sign really big players on really big salaries and expect that the money will fall from the sky," said Zalgiris chief executive Paulius Motiejunas.
"The players are owed between seven and eight million euros. They are supposed to have received seven salaries but have received only three. It's a day-by-day situation at the moment."
BBC Scotland has learned Hearts are around £25m in debt, with £15m of that secured by Tynecastle Stadium and now controlled by the administrators of Ukio Bankas.
A permanent administrator for Ukio Bankas is expected to be announced in the next few weeks.
However, it may take between six and 12 months for the new administrator to decide what will happen with the portion of the club's debt under their control.
Romanov, who took control of Hearts just over eight years ago, insisted he has "no regrets" about his time at Tynecastle.
He said he would invest another £60m in the club if it were possible and hopes fans remember the good times under his tenure.
"Sport plays a very important role in Scotland," he added. "Only maybe Brazil or Argentina can compete.
"I hope the fans remember that if you believe, if you go for it, then everything is possible. You can win the Scottish Cup and become a champion."