AFC Bournemouth: Howe happy at Cherries' narrow win
Last updated on .From the section Football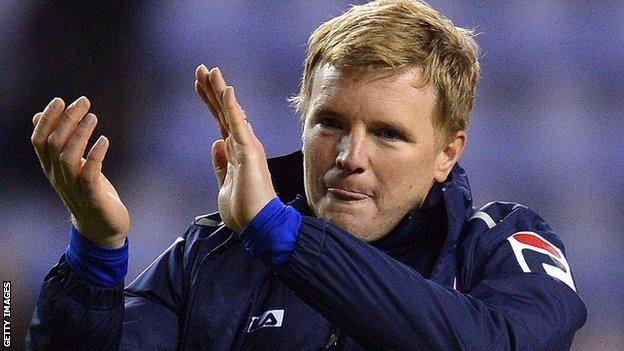 Bournemouth manager Eddie Howe believes Monday's 1-0 win over Scunthorpe will prove a valuable lesson as his team battles for automatic promotion.
The Cherries dominated the match but had to rely on Brett Pitman's first-half goal before closing out the game.
Howe told BBC Radio Dorset: "We have to look at it as a useful exercise in how to protect slender leads, and that will be important as the season progresses."
Bournemouth are now three points clear in second place in League One.
However, they have played two more games than Brentford, who lie third, and three more than Sheffield United who are a point behind Brentford in fourth spot.
Howe had particular praise for Pitman and fellow striker Matt Tubbs after the Cherries' fifth consecutive win. The 25-year-old Pitman has scored in all five of those games.
"Matt was excellent today in terms of his work-rate, and his header to create the goal was very unselfish, very intelligent. We've been working with the lads on making better decisions in and around the box and that was a prime example," said Howe.
"Brett is a great finisher, he's always been a goal-scorer and has taken different types of goals in recent weeks, which will do his confidence no end of good."
The Cherries boss also said that his side must now concentrate on their own performances rather than worrying about the teams around them.
"All we'll do is focus on our game, do our bit and see what happens elsewhere. We're confident in our ability and are in a lot healthier position than we were a few weeks ago.
"The players need to be professional, go away and look after their bodies and on Saturday be ready to go again."