Cash bonus can boost Swansea City, says Alan Curtis
Last updated on .From the section Football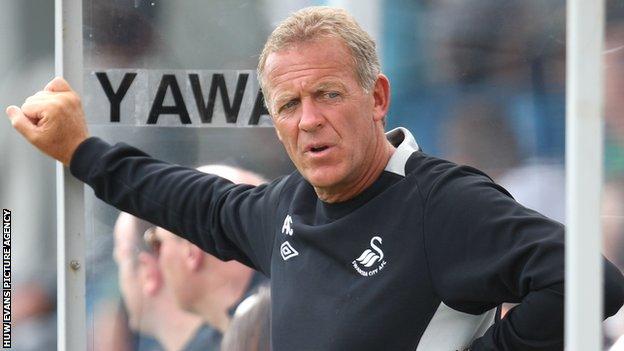 Swansea coach Alan Curtis says their players have cash bonus incentives to overcome a "mini slump" as the Premier League campaign draws to a close.
The defeats, by and prompted suggestions Swansea players are already "on the beach".
"I just think we've probably caught two sides on the top of their game," said first-team coach Curtis.
"But [our] performances have been okay, but the results have been a little bit disappointing."
The Welsh side travel to Norwich City on Saturday lying ninth in the table.
They have seven games after that to finish off a second Premier League season in which they have again defied predictions that they would struggle.
Curtis says they can also ensure a successful end to manager Michael Laudrup's first term in charge.
"We're all disappointed and we keep saying the right things," Curtis added.
"And the players - the way it works anyway - the players are on bonuses for staying up and where we finish in the league.
"So it's important for them as well, just from a financial point of view that we finish strongly.
"But if the results and the energy levels and work-rate and everything was down, yes there would be a problem."
However, Curtis acknowledges that the 5-0 Capital One Cup final win over Bradford at Wembley left all involved drained.
The ex-Wales international added: "I think it was such an emotional experience as well, playing in the cup final, I think that probably, emotionally, it drained a little bit some of the players.
"I think everybody at the club, possibly even the supporters, and it was a fantastic day.
"But you can tell in performances if players are not trying or maybe have started thinking about their summer holidays.
"But we've all said the same thing, there were 10 or 11 games to go after the final and it is important.
"We've done exceptionally well this season, but… I think Michael's trying to get this mentality of once you go and win things, let's carry on the performances and keep on grinding out results."
Curtis also predicts Laudrup will bring in as many as six new players in the off-season ahead of a 2013-14 campaign that includes their Europa League debut.
"There are plans afoot to try and bring people in," said Curtis.
"Obviously the players have to come and we have to satisfy them terms-wise.
"But I would say we will sign quite a few players. I say quite a few, maybe four, maybe even six players in the summer, if we can."