Scots bodies meet to force league reconstruction breakthrough

By Chris McLaughlin
Senior Football Reporter, BBC Scotland
Last updated on .From the section Football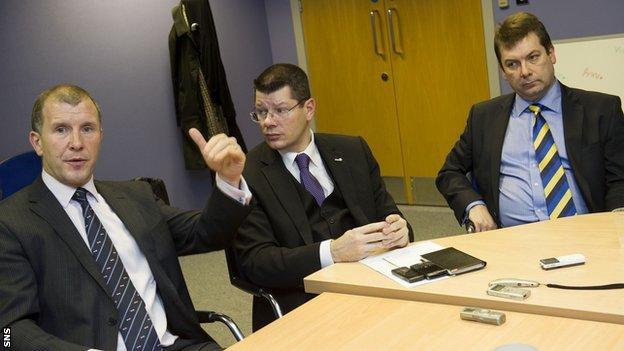 The Scottish Football Association met with the country's two main league bodies on Tuesday in a bid to force a breakthrough in league restructuring.
Scottish Football League clubs have failed to agree on the Scottish Premier League's plans for a 12-12-18 set-up but will vote no later than 19 April.
SPL clubs will also vote on the issue this month and Tuesday's meeting was described as "positive".
If adopted, the new structure would be put in place for next season.
Earlier this year, Stewart Regan, Neil Doncaster and David Longmuir - the respective chief executives of the SFA, SPL and SFL - jointly announced the 12-12-18 plan as an alternative to the current 12-10-10-10 model.
Under the proposals, the top two divisions would split into three leagues of eight midway through the season and the current financial distribution model would be revised.
And BBC Scotland has learned the SFA's lawyers will conduct due diligence into the financial viability of the proposed set-up.
which found 87 per cent of fans wished to see a larger top flight.
Speaking in response to the survey in general, Longmuir said: "Scottish football supporters are the most passionate in the world.
"They have demonstrated by this response how much they care about Scottish football's future.
"All three football bodies will take these views seriously and where possible deliver against them."
A statement from the SFA said its position on league reconstruction was clear: "Scottish football requires urgent, radical change in its league structures as a first, essential step to rejuvenating the national game.
"To that end, in order to provide greater comfort to both sides, we have agreed to undertake a period of due diligence on behalf of both the SPL and SFL to provide independent verification of projected distributable revenue of any single league body."