Brian McDermott 'hungry' for new job after Reading dismissal
Last updated on .From the section Football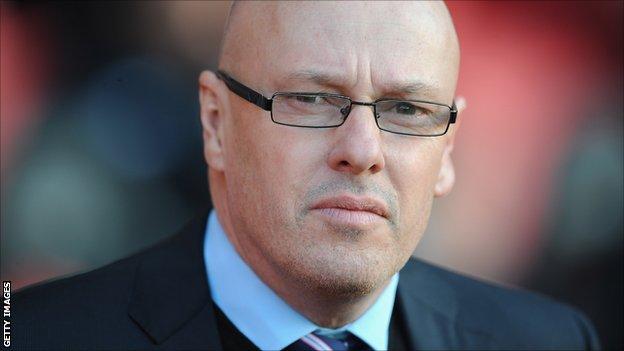 Former Reading manager Brian McDermott says he is "hungry" for a new a job following his dismissal by the Royals.
The 51-year-old is among the contenders to take over at Leeds United, following Neil Warnock's departure from the club.
"What you are going to have with me is someone who is even more hungry," McDermott told BBC Radio Berkshire.
McDermott lost his job despite leading the club to the Championship title last season and he believes he is an attractive proposition for a club in that division.
"I have to make sure I will join my next club on my terms," he said.
"In the last three years in the Championship, we got ourselves out of trouble, we reached the play off final and we won the league so my record is half decent.
"If I do get a Championship club they will be getting a very, very hungry manager.
"I don't know when I'll be back I don't want to put a time frame on anything. Everything needs to be right - finances need to be right; relationship with the board and the owner.
"So a lot of things need to be taken into consideration and it has to be a right match."
McDermott left Reading after four consecutive Premier League defeats left them four points adrift of safety.
He was replaced by former Southampton manager Nigel Adkins and McDermott believe the Royals can still stay up despite the club being seven points adrift of safety with seven games remaining.
"I looked at the last seven games and thought the run in was as good as anyone's," said McDermott.
"Two of the next three are at home. You pick up a couple of wins and the whole world changes.
"The last seven games are decent and I thought we can do it and I strongly believe they can still do it. No-one will be more pleased than me if they do it."
McDermott says he gave Adkins a few words of advice before taking the job, adding: "I told him the owner will back you 100%.
"Nick Hammond (director of football) is a good guy, the players are honest and will give you everything, and the supporters are terrific. I did not have a bad word to say."
McDermott did defend himself against accusations from the owner that he had not been active enough in the transfer market during the summer.
The former Arsenal player said he spent what he was given, but added he did not hold a grudge against the club's Russian owner Anton Zingarevich, and told him after he had been sacked that "we will always be friends".
He said: "The budget I had I spent, in hindsight, both Anton and I realise now we needed to do more.
"We signed four players in January and only Newcastle signed more. But if you do deals, get them done in the summer.
"It was important I left that meeting (when he was sacked) in the right manner. It was a difficult day because I've been at the club a long time."