Mark Hughes defended over Neil Warnock 'mud slinging'
Last updated on .From the section Football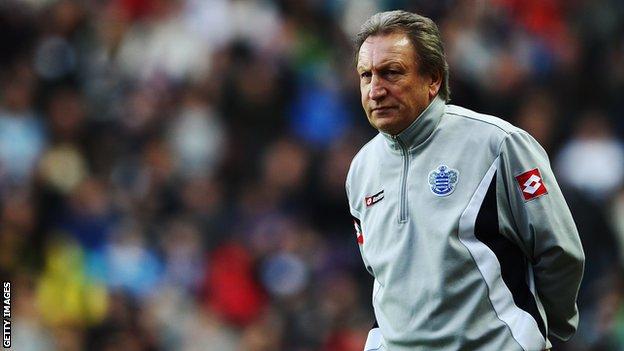 Mark Bowen has defended his managerial record alongside Mark Hughes after disparaging comments made by ex-Leeds United boss Neil Warnock.
Warnock on Monday and said he hoped Hughes "follows me again and destroys another team of mine".
Former Wales manager Hughes and assistant Bowen succeeded Warnock at Queens Park Rangers
"For another manager to actually name someone and throw mud... it's just not acceptable," Bowen said.
Responding further to Warnock's interview with talkSPORT, he added: "Neil basically said 'destroys another team' and he's obviously accusing Mark of destroying his team at Queens Park Rangers.
"There was one reason Mark Hughes was brought into Queens Park Rangers and that was to save them from relegation, which he did.
"Before we came in, Neil's team had 17 points in 20 games and we got 20 points in the last 18 games to keep them up."
Bowen has been the right-hand man of former international team-mate Hughes in management, starting with the Wales job and then in spells at Blackburn Rovers, Manchester City and Fulham.
Hughes' reign at Loftus Road saw them in the 2011-12 season but a winless start to the following season with Harry Redknapp taking over.
Warnock took over at QPR in March 2010 and, after keeping them in the Championship, took Rangers up to the Premier League as champions the following season.
He was then sacked with the club lying 17th in the top flight after a poor run of form that had seen them go almost two months without a win.
"The owner [QPR chairman Tony Fernandes] is entitled to do what he's done and we felt the brunt of it with Harry Redknapp coming in," Bowen added.
"But I guess he looked at Neil's record of keeping teams in the Premier League, in the top flight, and - to be very, very kind to him - it's not the best."
The root of their problem at QPR, according to Bowen, was having 21 players who they felt were "not good enough" for the Premier League.
A summer overhaul failed to secure results, though, and Bowen said he had no intention of trying to "sugar-coat" his time with Hughes at Loftus Road.
But the former Wales defender stressed: "It hurts that he seems to have been tarred with that brush now, that first of all he's ruined QPR and he's a bad manager.
"Well 10 games doesn't make a career; let's look at the 12 years before that where we'd never been relegated and finished in the top 10 in the Premier League eight out of 10 times.
"We've got a record that stands up with the best."
Hughes, who has been out of work since leaving QPR, has been touted as a possible successor to Warnock at Leeds, as have former Bolton boss Owen Coyle and ex-Reading manager Brian McDermott.
Brighton manager Gus Poyet, a former Leeds assistant, has also been mentioned as a candidate.