Jersey FA: Springfield could get '3G' surface for Island Games
By Tim Pryor
BBC Radio Jersey
Last updated on .From the section Football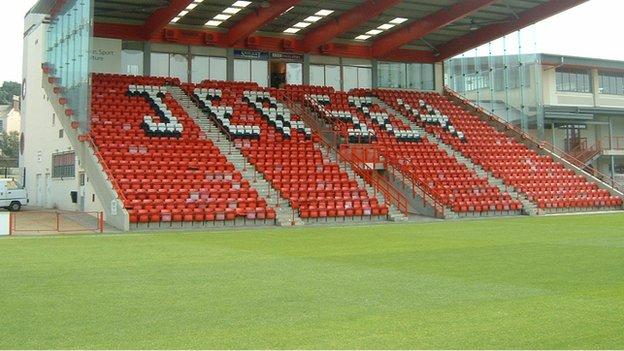 The pitch at the home of Jersey football, Springfield, could be replaced by an artificial 3G surface under plans unveiled by the island's Football Association.
The proposal is part of a wider facilities strategy announced to clubs on Thursday night.
After numerous postponements because of the weather, officials hope a new pitch would allow more fixtures to go ahead.
The project, ahead of the Island Games in 2015, would cost up to £500,000.
It would be funded by the Jersey Football Association (JFA) and the States of Jersey, with backing from the English FA.
"There is a big piece of work to be done to plan for and install a third-generation pitch, but we are positive that it is the right way to go and our preference would be to convert Springfield," said JFA president Phil Austin.
"It is already an established community facility at a central venue and conversion of the existing pitch is likely to be the most cost-effective solution.
"We believe that the facility can be developed by the end of 2014 in time to be a showcase amenity for the 2015 Island Games."
Springfield is at the heart of football in the island, hosting the cup finals and Muratti Vase matches, as well as being the headquarters for the JFA.
It is also the home ground for Premiership leaders Jersey Scottish.
More than 1,000 matches take place in the island every season, many of them in the Jersey Football Combination (JFC).
But after wet weather and heavy snow, there have been fixtures backlogs this year with matches such as the Le Riche Cup final being delayed until the end of May, months later than normal.
"It would clearly give us the ability to be able to play matches in any weather and night after night," JFC president Tim Darwin told BBC Radio Jersey.
"It could be played on the whole time without any fear of Springfield cutting up hugely at this time of year and the added cost that comes from then patching it up.
"We've been under huge pressure to get the fixtures in this season."
Also included in the facilities strategy are proposals to audit all Jersey facilities and improve access to school sites for use by clubs.