Cash-strapped Glenavon admit Premiership future is at stake
Last updated on .From the section Football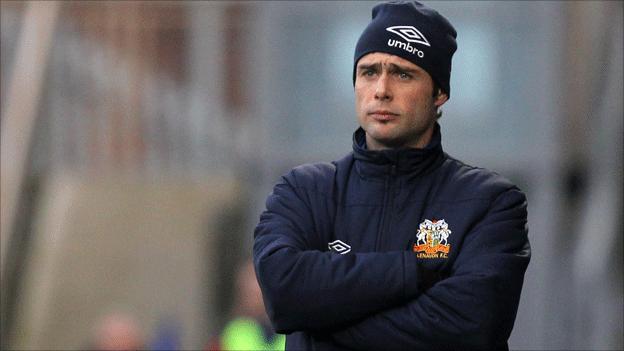 Glenavon say their future as an Irish Premiership club is in doubt unless major funds are raised to help them meet their debts over the coming weeks.
A statement by club directors said substantial finance is needed "to make sure we do not reach a position where we consider we are unable to continue operating as a Premiership club".
They have appealed to supporters to help them meet their obligations.
The Board warn of "potentially serious consequences" if the debt persists.
With that in mind, the club's directors have issued an urgent appeal to fans and "everyone with the best interests of Glenavon at heart" to help them meet the demands they face for the current season.
The statement issued by Board said they "could not stress strongly enough the potentially serious consequences if we cannot raise more substantial funds in the coming weeks."
The Lurgan Blues recently launched a fundraising campaign to raise £30,000.
So far, they have managed to gather almost £5,000.
"This is far short of the amount we need to meet our financial obligations between now and the end of the season," explained the Directors' statement, which was issued on the club's website.
"The club was only able to get through the month of March to meet its major obligations because directors donated sizeable amounts to the club. This state of affairs cannot be allowed to continue.
"Over recent years, in order to remain financially viable, we have had to make significant reductions in expenditure. In particular, the wages budget available to the manager is considerably less than it was a few years ago.
"Further reductions would inevitably have an impact on the quality of the playing squad available to the manager and seriously compromise our ambition to remain as a competitive Premiership club operating on a semi-professional basis."
The Mourneview Park club lie ninth in the Premiership table and have struggled to make any impact in league and cup competitions in recent years.
A number of Irish League clubs have been facing financial difficulties against a backdrop of falling attendances and reduced sponsorship.
Glentoran players have received their wages late on a number of occasions this season.