Dunfermline: Gavin Masterton signs over Pars shares
Last updated on .From the section Football39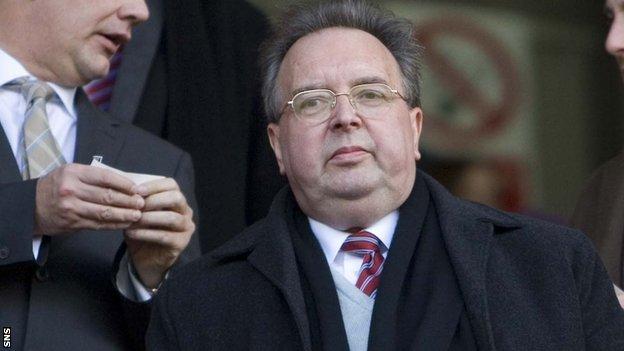 Gavin Masterton has signed over his shareholding at Dunfermline with the First Division club in interim administration.
Masterton said he hoped the move would "help the club rebuild for the future".
Dunfermline were granted interim administration last week in a bid to stave off a winding-up order launched by HM Revenue and Customs.
And the Scottish Football League is due to begin disciplinary proceedings against the Pars.
Seven first-team players and assistant manager Gerry McCabe were made redundant by accountants PKF.
And by taking steps towards administration the Division One club face a points deduction.
Masterton said he hoped that, by transferring his shares, administrator Bryan Jackson would be able to carry out his job more effectively.
"I appreciate that the fans will also be doing their best for the club and hope that we can all work together to ensure DAFC is still around for another 128 years," added Masterton.
Dunfermline owe £134,000 in taxes and have further debts worth around £8.5m outstanding to Masterton and other companies.
Jackson has pleaded for leniency, claiming a severe punishment could impede his ability to save the club.
"I am grateful to Mr Masterton for handing over his shares," said Jackson.
"This will make the process of administration considerably easier and this action, along with the decision by various supporters and business organisations to unite behind the club in the Pars United group, gives me some hope that we can have a positive outcome from the administration process.
"I would echo Mr Masterton and Pars United in encouraging all fans, and the wider community, to get behind the club in any way that they can.
"We are also pleased to announce that we have been able to provide a small advance on April's wages to all players and staff from the generous donations received by fans and benefactors since the announcement of the interim administration last week."
SFL chief executive David Longmuir will meet Jackson before initiating disciplinary procedures.
"I was speaking to Bryan Jackson and I will be meeting him [on Thursday] to discuss the plans that he has and how he sees the future of Dunfermline," explained Longmuir.
"That actually is the most important issue facing the league.
"We need to be able to manage that situation, as we have managed all the other unfortunate insolvency issues we have had.
"I will be meeting Bryan to try to assess the situation before we do anything. I have given him time to try to see what's happening at Dunfermline. I've been in contact with all the key players within the club, I know what's going on and the SFL will deal with that in the next few days.
"That process of deciding penalties will commence after I meet Bryan. It's only fair that I have given him some time to assess the situation before the football authorities come in and do whatever we have got to do.