Older players deserve respect - Nigeria's Joseph Yobo
By Oluwashina Okeleji
BBC Sport, Lagos
Last updated on .From the section Football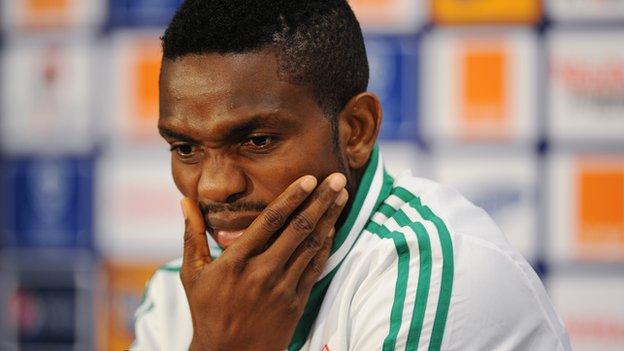 Nigeria captain Joseph Yobo has called for better communication between the Nigeria coaching staff and established Super Eagles players.
Yobo is the latest player to have been involved in a public spat with coach Stephen Keshi after reacting angrily to being omitted from the squad that drew 1-1 against Kenya in a World Cup qualifier at home recently.
It follows criticism of Keshi from West Brom striker Peter Odemwingie and Emmanuel Emenike, who also felt they had been treated badly.
Fenerbahce defender Yobo believes much of the ill feeling could be eradicated through greater courtesy.
The 32-year-old, who is his country's most capped player on 95 appearances, said he felt "disrespected" by Keshi after the coach failed to inform him he would not be called up for last month's game.
"I have been with the national team for more than 10 years, I don't expect to play every game if I can't give my all," Yobo told BBC Sport.
"But [Keshi's] attitude was quite disappointing. I've never demanded special treatment, only to be given the same respect I've given to all my coaches and the country.
"I won't be around forever but we need to halt the sad exit episodes. When you treat older players badly the younger ones are witnessing a terrible trend."
Yobo helped Nigeria win the Africa Cup of Nations in South Africa in February but has said that will be his last appearance in the competition.
And he insists he is not one to stand in the way of young players coming through and is keen to see them develop and do well for the Super Eagles.
"I understand there are now new players in the group who have arrived on the scene and are very good," said Yobo, who made his international debut in 2001.
"I've witnessed disappointments and joy from two generations, and I can see the ongoing transitional process.
"I know that chapter [Nations Cup] is closed for me. The young players deserve a chance at that stage like I got when I was coming up."
However, Yobo believes he still has something to contribute to the team's transition and will continue to be available for the Super Eagles.
"I'm no different to anyone else - I love playing for Nigeria and I'll never turn my country down," he said.
"For the Confederations Cup and World Cup in Brazil, it is what it is - I'm not being considered at the moment, the coach hasn't picked me.
"If I got picked I would love to speak with [Keshi], discuss a few things, pack my bags and go straight to camp.
"If I'm not picked then I'll keep doing what I'm doing for my club Fenerbahce."
Keshi, meanwhile, has made it clear he is not happy that some players have aired their criticisms publicly.
"I don't need to engage my players in the media, I'll rather speak to them privately and sort whatever grievances they have with me," Keshi told BBC Sport.
"I thought we had an understanding but it appears not to be the case. We'll see in the coming weeks the next direction to go."