Leicester City: Nigel Pearson dismisses Ince speculation
Last updated on .From the section Football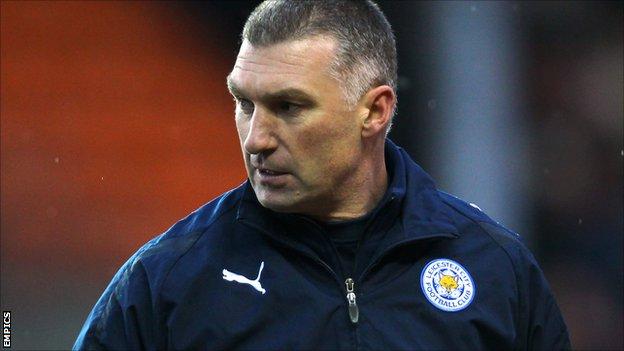 Leicester City manager Nigel Pearson insists the club's Thai owners remain fully committed to him despite rumours that Blackpool boss Paul Ince is being lined up as his replacement.
The Foxes have slipped out of the Championship play-off places, having won just one game in their last 11.
Pearson told BBC Radio Leicester: "They [owners] will be wanting better results but I know I have their support."
Ince said he is enjoying the job he started in February and wants to stay.
"I'd never comment on any club where there's someone working there. Nigel Pearson's a top man and a top manager," Ince told BBC Radio Lancashire.
"As far as I'm concerned, my job's at Blackpool and I'm enjoying it. When I came to the club, I said to the chairman that we had a great year in the Premier League, but we've got to start again and we're going through a transitional period where we need to build again.
"One thing I like to do is build teams. I want to do the same here."
Pearson, whose side have lost three consecutive matches and are two points outside of the top six with six games remaining, said he was aware of the speculation about his position but was secure in his role following talks with the owners.
He added: "I have had contact and they are good people and have invested an awful lot in this club and that is not just finances.
"I am in contact with my bosses and I know my own situation and I also know they have been very supportive this season. What we discuss behind closed doors needs to remain there.
"I don't think there is any need for me to respond to any speculation in the media apart from to say that all I will be doing - along with the players - is to make sure we finish the season well. And if we do that, then maybe some of the speculation might stop."