Wales Women progressing well, says captain Jess Fishlock
Last updated on .From the section Football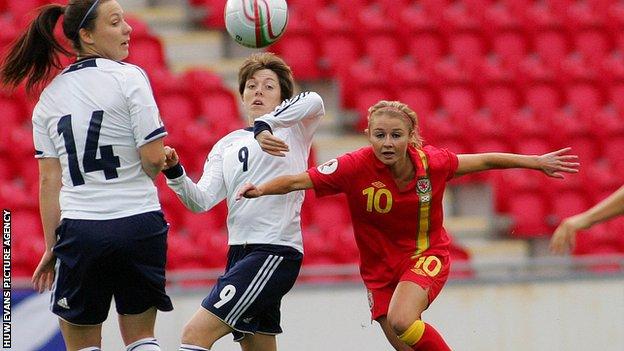 Captain Jess Fishlock says Wales Women are making steady progress as they prepare for the 2015 World Cup qualifiers.
But Fishlock says Wales are making great strides ahead of the qualifiers, which begin in September
"There is progress - that goes without saying," Fishlock told BBC Wales Sport.
"The fact that we were even in that position for the Euro qualifiers speaks volumes for us. A few years ago we would have been happy to have been in that situation
"But we're at a stage now where that's not our mentality.
"Getting in those situations and losing like we did is not really good enough for us.
"A lot of us still do believe we could have beaten Scotland but didn't play well on the day and that's something we have to live with.
"We will be out for a win but the most important thing is our performance and we'll get out of it what we need to."
Fishlock will be heading out to the United States following Wales' friendly at Dunfermline's East End Park.
The 22-year-old midfielder has left Bristol Academy to join Seattle Reign in the newly formed National Women's Soccer League.
Wales Women's squad to face Scotland: Nicola Davies (Chelsea), Rhian Nokes (Cardiff City Ladies), Lauren Price (Cardiff City FC), Carys Hawkins (Sunnana SK Skelleftea), Kylie Davies (Chelsea), Lauren Townsend (Cardiff City Ladies), Loren Dykes (Bristol Academy), Danielle Oates (Blackburn) Jessica Fishlock (Seattle Reign FC), Sophie Ingle (Chelsea), Rachel Hignett (Bristol Academy), Michelle Green (Cardiff City Ladies), Josie Green (Watford), Angharad James (Bristol Academy), Megan Wynne (Watford), Natasha Harding (Bristol Academy), Helen Bleazard (Chelsea), Sarah Wiltshire (Watford), Helen Ward (Chelsea), Amy Thrupp (PILCS FC)