Paolo Di Canio: Harry Redknapp backs Sunderland head coach
Last updated on .From the section Football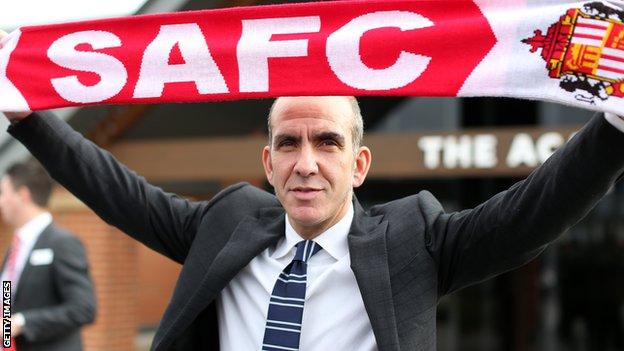 QPR manager Harry Redknapp has welcomed Paolo Di Canio's appointment at Sunderland and questioned the focus on the Italian's political views.
Redknapp, who managed the former Swindon boss at West Ham, has queried why it has only become an issue now.
"It's amazing how suddenly he's a fascist now he's at Sunderland and he wasn't at Swindon," Redknapp said.
"No-one mentioned anything about him when he was at Swindon - suddenly he goes to Sunderland and all the dirt in the world gets dug up on him."
Former foreign secretary David Miliband resigned from the Premier League club's board a day after Di Canio was unveiled as Martin O'Neill's successor at the Stadium of Light, because of the Italian's past political statements.
In 2005, while he was a player at Lazio, Di Canio was fined £7,000 and suspended for one game by the Italian authorities after making a fascist salute for the third time that year.
Di Canio had initially refused to answer questions about his political beliefs when he faced the media on Tuesday, describing the controversy surrounding his appointment as "ridiculous and pathetic".
Redknapp signed the former Lazio and AC Milan striker for West Ham in 1999 from Sheffield Wednesday in a £2m deal, and feels he will show the same intensity as a Premier League manager that he exhibited as a player at Upton Park.
"I'd love him to do great at Sunderland, I really would. He was a great player for me, a good lad, a great trainer, the fittest guy you would ever wish to see," he said.
"He will want his players to be the same, to live right, conduct themselves and eat right and be as fit as they could ever be. He will demand that from them."
Sunderland, who lie one point above the Premier League relegation zone with seven games remaining, face Chelsea in the Premier League at Stamford Bridge on Sunday in Di Canio's first game in charge.
"As a manager it is my first time at the top, I mean the very top level," Di Canio told the club's official website.
"Chelsea at Stamford Bridge - what can you say? I can't wait for it and I expect the same desire and determination from my players to make sure they do a good job.
"We always have to remember that the main protagonists are the players, but with my help and my staff's help we can go there and get a result."
Stoke City manager Tony Pulis is unsure what effect Di Canio, 44, will have on the club's results in the run-in. However, he believes that the appointment will increase the media focus on Sunderland.
"They have seven games to go and we'll see. I'm sure the press and media are delighted to have him on board," Pulis said.
West Ham boss Sam Allardyce says the Italian needs to adapt to the demands of top-flight management quickly.
Di Canio's only previous managerial experience is the 21 months he spent at the County Ground.
The Roman led Swindon to promotion from League Two, but resigned in February with the Robins going well in League One after becoming frustrated by off-field issues.
"It's not easy to secure a job in the Premier League. When you get there you must grasp it with both hands and learn how to cope with it as quickly as you possibly can," Allardyce said.
"If you can put all that together as quickly as you possibly can, you survive. If you don't you'll soon find out what the pressure feels like. All the best to him."