US star Carli Lloyd unhappy at artificial pitches at 2015 World Cup
Last updated on .From the section Football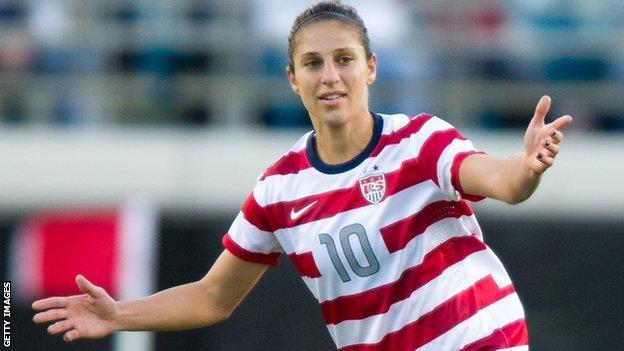 United States international Carli Lloyd says she is disappointed at plans to play 2015 World Cup matches on artificial turf pitches.
Two-time Olympic gold medallist Lloyd says she fears for players' safety.
The 31-year-old told the BBC World Service: "As a soccer player we would all rather play on grass fields. My biggest concern is the injuries."
She added: "It takes several weeks to recover from playing on [artificial] turf. It's bad on your joints, not to mention all those rubber pellets.
"Those pellets are there to help you slide, sometimes in the grass there's no rubber pellets and your foot can get stuck and that's when injuries can happen.
"I just don't want soccer getting to that point where everybody's playing on artificial turf".
Lloyd's anger is shared by her team-mate and 2012 Fifa World Player of the Year Abby Wambach who spoke out on Twitter.
Wambach tweeted: "I usually don't retweet articles about myself, but I think it is too important to stay silent on. The men should worry too, they could be next."
However, Lloyd, who scored the Olympic gold medal-winning goals for the US in Beijing in 2008 and London in 2012, has not given up hope that the decision can be reversed.
"I just hope that things can be changed," said the Western New York Flash midfielder.
"I hope that we, as players, can do something - as well as other countries and federations and just let Fifa know that we're not really too happy about this decision."
Lloyd, who is currently out with a broken shoulder, says her hunger for the game remains as strong as ever.
"I've still got a lot more in me. Obviously I want to bring home the 2015 World Cup. That's kind of a major thing, I will do anything to become a World Cup champion," she added.
"But my ultimate goal is to become the Fifa World Player of the Year. I was fortunate enough to make the shortlist this year, but that's a goal of mine and I'm going to do everything to keep working hard towards that goal".