Fifa president Sepp Blatter retracts racism sanctions call
Last updated on .From the section Football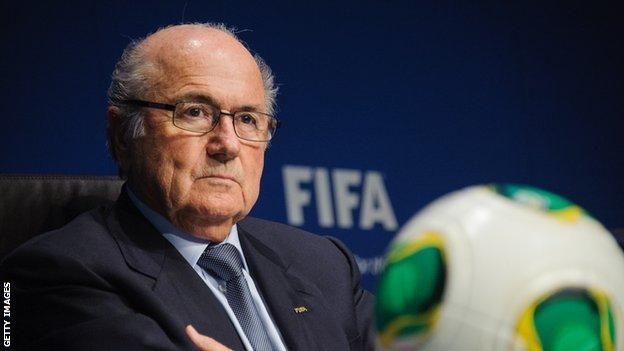 Fifa president Sepp Blatter has retracted his call for football clubs whose fans are found guilty of racist abuse and violence to be relegated.
But he now says such a hardline approach could be counterproductive.
"Would such measures lead people to come to games to get the match abandoned?" Blatter asked.
"We should do all we can but there's a danger that if we have matches replayed or if we punish clubs on the sporting front, it will open the door to hooligan groups who will come to deliberately cause trouble," Blatter, 77, said at a meeting at Early Warning System, a company that monitors games on Fifa's behalf to prevent match-fixing.
The Swiss also said that a proposal for uniform sanctions across all of Fifa's 209 member associations would be put to a vote at its congress in May.
"The same standard must apply for each and every league and national association," he said.
Blatter made his original remarks in January after AC Milan's Kevin-Prince Boateng and his team-mates had walked off the pitch during a friendly match with fourth-division Italian side Pro Patria in protest at racist abuse from opposition fans.
"Playing a game without spectators is one of the possible sanctions, but the best would be the deduction of points and the relegation of a team, because finally the club is responsible for their spectators," he told Fifa.com at the time.
Blatter had initially responded to Boateng's walk-off by stating that players should not leave the field of play in the event of racist abuse from supporters.