Ipswich Town post £16m loss for 2011-12
Last updated on .From the section Football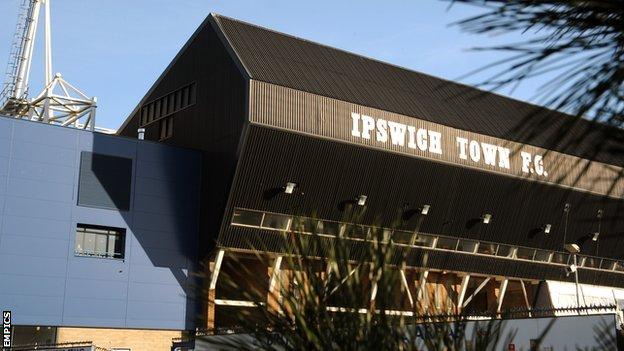 Ipswich Town made a loss of nearly £16m in the financial year ending June 2012 as the club's debt to owner Marcus Evans rose to more than £72m.
The club saw gate receipts drop by over £1m to £5.36m, while the wage bill increased by £400,000 to £17.95m
Ipswich's Playford Road training ground was sold to one of Evans's companies for £1.32m, with Ipswich paying rent of £40,000 a year.
The loss of £15.96m is more than £12m higher than the previous 12 months.
However, that period was subsidised by the sales of Connor Wickham to Sunderland and Jon Walters to Stoke, when Town made £10.84m, compared to just £248,000 in 2011-12.
Total debt at the Championship club has risen from £72.83m to £79.62m - £72.62m of which is owed to companies owned by Evans.
The figures highlight Ipswich's financial reliance on businessman Evans, who owns 87.5% of the club's shares.
But the auditors noted that Evans had committed to "continue to make available such funds as are needed by the company... and will not seek repayment of any of the amounts currently made available".
The auditors also added: "The directors acknowledge that there can be no certainty that this support will continue indefinitely."
Income from commercial sources, TV and radio also fell by around £1m.