Rio Ferdinand: Premier League title is priority, not records
Last updated on .From the section Football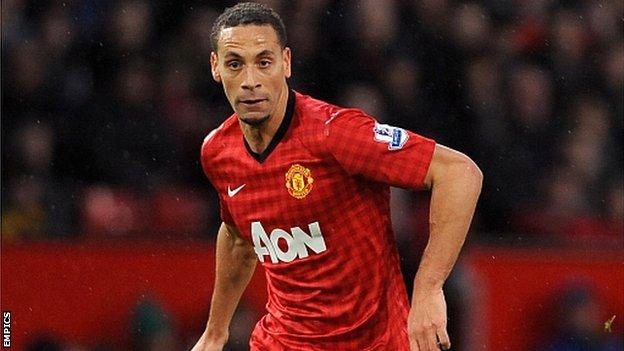 Manchester United defender Rio Ferdinand insists simply winning the Premier League title is his priority this season, not a record points haul.
United face rivals Manchester City on Monday, knowing a win would put them 18 points clear, with seven games to play.
It would also leave them on 80 points, only 15 short of Chelsea's Premier League record set in 2004-05.
"We need to get the trophy first," said Ferdinand. "Then you can think of all the other stuff around it."
United have won the Premier League 12 times since its inaugural season in 1992-93 and have a total of 19 top division titles.
This term they are in sight of their own record points margin, which was 18, ahead of Arsenal, in 1999-2000.
Ferdinand, 34, who became the most expensive British player when he moved to Old Trafford from Leeds for £30m in July 2002, said: "It is just about winning.
"If anything comes after that then great. If you win the league before the end of the season you can set other targets."
United were thrashed by 6-1 by City in the corresponding fixture last term, before opening an eight-point lead over their neighbours with five weeks of the season remaining.
However City secured their first top-flight title for 44 years with two goals in stoppage time to beat QPR 3-2.
"We are not any more hungry because of what happened last season," insisted Ferdinand.
"This is just the way we are. The mentality of this club, driven by the manager, is that you have to win and you have to be challenging for every single competition you go in for.
"That has been the case since I have been here and will never change. This club, the manager, the management team he has behind him, and the players and the fans demand that."
United have scored 70 goals in their 30 matches thus far, some way short of the Premier League record of 103 set by Chelsea in 2009-10, and Ferdinand admitted the style of play at Old Trafford has not always been scintillating this term.
"If you are going to win titles you have to be able to win in a lot of different ways," explained Ferdinand, who is seeking his sixth league title with United.
"You have to be able to win ugly and by playing great fluid football. More often than not, it is the teams who can do that who will win the league.
"At the beginning of the season we were playing open, expansive football, which I am sure was good for the fans to watch.
"But, being a defender, my first instinct is to defend and keep clean sheets and we weren't able to do that.
"We addressed it. That is the most pleasing point. And now we are benefiting from it."