Dundee: John Brown likens Gary Harkins to Eric Cantona
Last updated on .From the section Football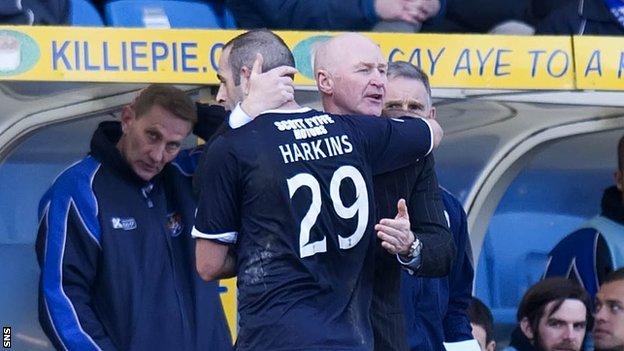 John Brown compared Gary Harkins to Eric Cantona after the midfielder's double secured Dundee a Rugby Park win.
"Eric Cantona never had a great deal of pace but he wasn't a bad player," said Dundee manager Brown.
"Gary Harkins has got all the ability in the world; you put him in the final third and he can create things."
And Brown added: "In January when [Kilmarnock manager] Kenny [Shiels] went with the youths thinking they'd make the top six, Gary had a point to prove.
"He doesn't need pace, he can scores goals and he's got a great brain.
"That's the type of player you're dealing with there, you let him express himself. There'll be times he'll give the ball away, but if you restrict that you're not going to get what you got today."
The result, which cost Kilmarnock a top-six place, was Dundee's fifth win of the season and only their second on the road.
And although relegation still looks likely, Brown is adamant his men are going down fighting.
"I've had a great response from the boys," said the man who took over from Barry Smith in February.
"I saw Kilmarnock against St Mirren during the week and I felt if we could match up with the front two and overload the midfield, we might get some joy so we managed to get that.
"We got the breaks but I felt as though we could have got two penalties.
"The players are playing for their livelihoods so if we're going down we're going to put a good fist up, and we did that today.
"Kilmarnock had so much to play for to be in the top six, there's a lot of money involved in that but we've managed to get a result down here. We've not had many results on the road so it's a great result for us today especially for our fans."