'Intelligent' Cardiff City please boss Malky Mackay
Last updated on .From the section Football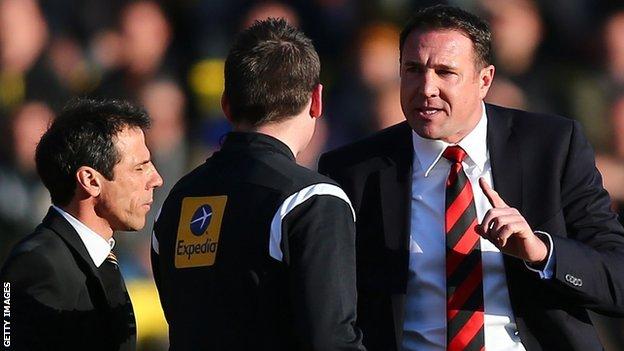 Cardiff City boss Malky Mackay praised his side's "intelligent" approach in the that edged them closer to promotion to the Premier League.
Mackay was delighted with his side's clean sheet against the division's top scorers and fellow promotion hopefuls.
"It was a real intelligent game plan... and an intelligent team performance," Mackay told BBC Radio Wales.
"I thought we showed real good mentality as well."
The Bluebirds host Barnsley on Tuesday in the first of a run of three home games in which they could seal automatic promotion.
They are five points clear of nearest rivals Hull and eight above third-placed Watford. Cardiff also have a game in hand over both those clubs.
As things stand, eight points from their final six game will guarantee promotion for the Bluebirds - and that figure will reduce if Watford fail to take maximum points.
And Mackay is confident his side as the inner belief to ensure they remain on top of the division, having been there since November.
He added: "There's a lot of ifs and buts still to go.
"So what we'll do is look at the team six inches in front of our face, which is not Watford any more, which is Barnsley on Tuesday night, who are on a very good run.
"We'll get ourselves ready to go again, which I know this team will.
"They've got a toughness about them, mentally, that has kept us at the top of this division for a long time, since late November.
"And I think as a result of that I've got a team who have got an inner belief in their ability and in their togetherness and what actually makes them tick."
Mackay says Cardiff underlined those qualities with a first-half display at Vicarage Road that ensured the hosts had to attack in the second period.
"Second half, they have to come at us, they have to get the win. They're chasing us," said the Scotsman.
"And I thought we were very intelligent, the way we played in the second half. We stuck to the game plan.
"We were really intelligent and we obviously had a blow earlier on with [hamstring injury victim] Matt Connolly going down very early.
"We had a blow before the game with Fraizer [Campbell] not being fit.
"I thought the boys that came in were fantastic.
"Look at Kevin [McNaughton] coming in, playing right-back and he was immense… our back four as a whole blocked crosses, they blocked shots.
"The midfield in front of them, the wingers, the forwards - I can't really pick anybody out because I thought overall it was a real intelligent game plan... and an intelligent team performance.
"I thought we showed real good mentality as well and I thought team-work and intelligence today showed what we're all about."