Paolo Di Canio should clarify views - Shaka Hislop
Last updated on .From the section Football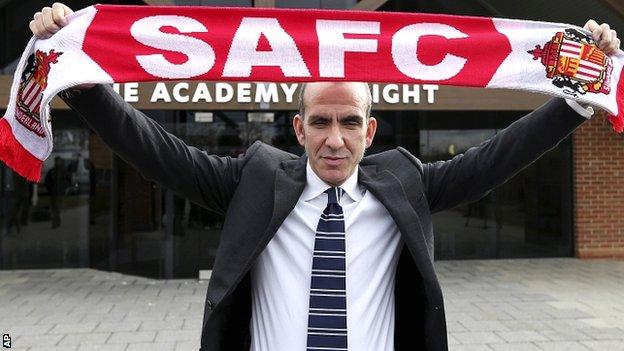 Former West Ham goalkeeper Shaka Hislop believes Sunderland boss Paolo Di Canio needs to clarify his political views.
Di Canio has come under scrutiny since a 2005 interview was highlighted where he admitted to being a fascist.
Hislop, who played alongside Di Canio at Upton Park, said: "I don't believe Paolo Di Canio is a racist.
"But there's no place for extreme politics in football. They infringe on the rights of others and that's where you have to draw the line."
Di Canio began his career at Lazio and during his second spell with the club was fined £7,000 and suspended for one game by the Italian authorities in 2005 after making a fascist salute for the third time that year.
When questioned at the time about the straight-arm gesture by Italian news agency Ansa, he claimed it was aimed at "my people".
Di Canio was also reported to have said he was "a fascist, not a racist", although he has since claimed he was misquoted.
Last week, he clarified: "I am not political, I do not affiliate myself to any organisation. I am not a racist. I do not support the ideology of fascism. I respect everyone. I am a football man."
But Hislop, a former Trinidad & Tobago international, told BBC Radio 5 live's Sportsweek: "I was still playing when he moved out to Italy and made the infamous Roman salute,"
"I have to say I was surprised and offended by it. There's no place for extreme politics in football, regardless of what your beliefs may be.
"He supposedly offered the explanation that he was a fascist but talking to [Italian sports journalist] Gab Marcotti he points out that fascism in its more mild existence is not seen in Italy as all that disturbing, whereas there is still a lot of uncertainty in Europe.
"I'd like to get a proper explanation. I'm not overly convinced by 'it's a Roman salute, let's get on with it'. I think there are wider implications to it. As much as fascism can have a more moderate side to it, it does have its extreme elements and I'd like to know if Paolo falls into that category or which category he does, and if not what was his salute all about?"
Former foreign secretary David Miliband resigned from the Sunderland board over Di Canio's "past political statements" and Hislop said: "As much as there may be issues within the dressing room there is the issue of Sunderland Football Club.
"I'm very aware of how good a football club Sunderland are and how important they are, not just to the Sunderland community but to the North East in general. Long after Paolo has gone, long after every player currently plying their trade for Sunderland Football Club has departed, it will live on and you worry that as a brand it may be stained by this appointment or a failure to properly account for it."
Hislop, who had two spells with West Ham and also kept goal for Reading, Newcastle and Portsmouth, added: "I certainly considered Paolo a friend when we were playing and still do but you never knew what you were going to get. You had absolutely no idea what he was thinking or what was going to come next. He did things on the training ground I've not seen anybody do.
"There is the old cliche about a thin line between genius and insanity and I think Paolo walks that."