Michael Laudrup: Norwich draw can set up top-10 finish for Swans
Last updated on .From the section Football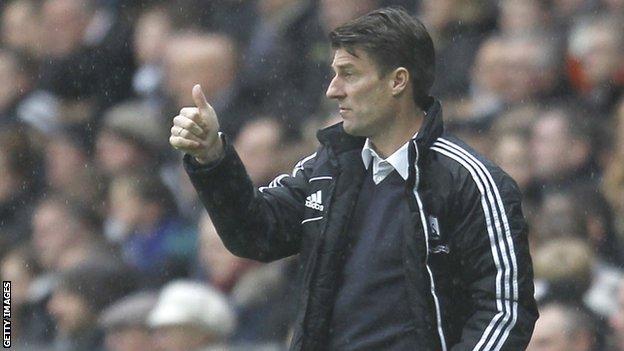 Swansea can use their point at Norwich as a springboard to secure a top-10 finish in the Premier League, according to manager Michael Laudrup.
ended a run of three consecutive defeats and keeps Laudrup's team in ninth place.
"It was very important to get back with a positive result," he said.
"Now we need to win two games at least if we want to end up in the top 10, which I think we can."
The Swans have a two-week gap before facing Southampton at the Liberty Stadium on 20 April.
After winning the Capital One Cup and securing Premier League safety, Laudrup has targeted a top-10 finish and 50 points.
Their home game against Southampton is followed by a trip to Chelsea on 27 April, before Manchester City visiting the Liberty Stadium on 4 May.
After that Laudrup, takes his side to relegation-threatened Wigan, where ex-Swans boss Roberto Martinez is in charge.
Then Swansea go to title hopefuls Manchester United before finishing at home against Fulham on 19 May.
"Maybe I'm naive, but I still think it's possible," Laudrup said of Swansea's chances of reaching 50 points.
"Away we have a couple of quite difficult games at Old Trafford and Stamford Bridge and Wigan are fighting as well, especially after Aston Villa's win [at Stoke on Saturday].
"If we win two out of our three remaining home games, I think we will end up in the top 10 and that for me would be absolutely fantastic."
The manager's views are echoed by skipper Ashley Williams.
"We haven't been out of the top half for most of the season, so it would be a shame if we dropped out now," said the Wales captain.
"I think we just wanted to stop the losses, that was the main thing, and we've done that.
"We feel like we've got more points to get in the season and it would be a shame really if we don't finish in the top half."