Paolo Di Canio cuts confident figure despite Chelsea defeat

By Phil McNulty
Chief football writer
Last updated on .From the section Football56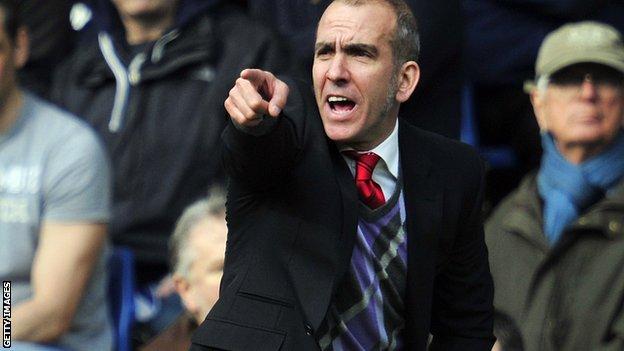 The loudest Paolo Di Canio got all day was when he pulled on his sweater, a purple-and-black diamond affair with grey trim set off by a bright red tie to suit Sunderland's traditionalists.
If, in the words of former Swindon Town chief executive Nick Watkins, Di Canio specialises in "management by hand grenade", it seems the explosives must wait for another day even if the dress sense is incendiary.
After an appointment that exercised the minds of everyone from politicians to the Durham Miners' Association, it was finally down to the serious business of ensuring Sunderland stay in the Premier League for Di Canio, who succeeded sacked former manager Martin O'Neill as head coach.
And on the evidence of his first game, a 2-1 loss at Chelsea that extended their winless streak to nine games, it will be a very serious business indeed - and riddled with tension. Di Canio was, understandably, upbeat in defeat but Sunderland have a dogfight on their hands.
Di Canio has been called many things since his arrival on Wearside - his political views were once again questioned during his post-match media briefing - but no-one can ever accuse the Italian of a confidence deficit.
Reflecting on the differing demands of preparing Swindon to face Accrington and plotting a strategy to face the 2012 Champions League winners, Di Canio set modesty on one side to say: "That can be a big change but if you are a good manager, like I am, you can do it."
In Di Canio's defence, he did correct himself moments later, clarifying his boast with the words: "A very good manager."
He banged the table as his eyes turned towards the television showing Loic Remy putting QPR ahead against Wigan Athletic. This was relatively good news but he had taken his leave when things took a turn for the worse, particularly for QPR, as Shaun Maloney equalised for Wigan deep into stoppage time.
The draw across west London means Wigan are level on points with the Black Cats having played a game fewer, with the Latics remaining behind on goal difference. Di Canio has suggested he would "confidently bet everything I have" on Sunderland staying up. It remains to be seen whether he emerges as a mug punter.
If his style, as has been suggested by former employers, is to tread his own path and leave others to clear up the collateral damage, it is one he may have to temper between now and the end of the season.
Sunderland were gritty and well-organised but devoid of inspiration. Di Canio hinted at a lack of fitness in his squad, which is unlikely to impress his predecessor O'Neill, but a lack of quality may be the more pressing problem.
There were good signs in the way Chelsea were held for 45 minutes, with Sunderland leading at half-time through Cesar Azpilicueta's own goal. The game turned on Matt Kilgallon's own goal and Branislav Ivanovic's deft deflection in the 10 minutes after the restart.
It was all over for Sunderland after that and it is this impotency, this lack of threat, that Di Canio must cure as they face a testing closing programme, starting with next Sunday's Tyne-Wear derby against Newcastle United at St James' Park.
He seemed to take a particular interest in Stoke City's continuing decline as he flagged up their visit to The Stadium Of Light on 4 May but the realist in Di Canio admitted that this is one fight that is going all the way.
Sunderland also visit Aston Villa, so Di Canio's route to safety is littered with hazardous objects, not that this appeared to worry him as he held court with such confidence at Stamford Bridge.
Di Canio can monitor Sunderland's fitness all he likes but goals are what he needs and with Steven Fletcher out for the rest of the season and Danny Graham injured, he must trust 20-year-old Connor Wickham and perhaps find a new direction for Adam Johnson, an England player who has lost his way.
He must also use his time on the training ground to transfer some of his own seemingly bullet-proof confidence to players short on this precious commodity, on which so much can depend.
Di Canio's entrance, unlike his jumper, was understated at Stamford Bridge. In fact he almost went unnoticed until he responded to a warm reception from Sunderland's travelling support and an embrace from Chelsea captain John Terry.
And the early signs suggested he will provide compulsive viewing and listening. After passively observing early on, he was soon into his stride with expansive gestures, wheeling around to either vent his spleen or make a tactical point to his technical staff. Defender Phil Bardsley was even the recipient of an exuberant slap on the cheek by way of encouragement.
At the final whistle, beaten, he waited for each player and greeted them with a short chat and some warm physical contact. This was the kid glove, not the hand grenade - although with Di Canio it is unlikely even he will know how the long the pin will stay in place.
Whatever happens, life at Sunderland under Di Canio will not be dull. The technical area at Newcastle United next week promises to be a place of pure theatre.