Rachel Yankey honoured to match Peter Shilton's 125 caps
Last updated on .From the section Football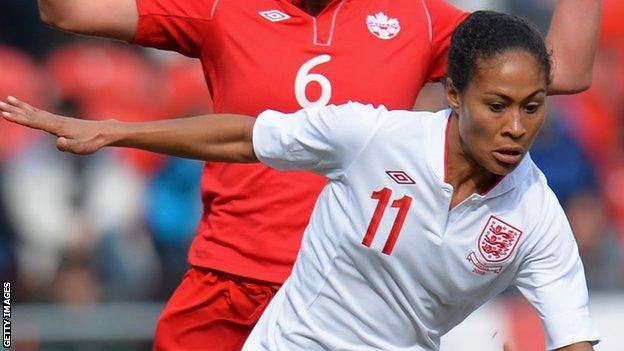 England's Rachel Yankey is keen to add to her international caps after matching Peter Shilton's record of 125 during Sunday's 1-0 win over Canada.
The 33-year-old is set to travel to the 2013 European Championships in Sweden in July, but could break the record on 26 June in a friendly against Japan.
"It's a privilege and an honour to play as many times as a legend like Peter Shilton," Yankey told BBC Sport.
Yankey is one of six female centurions for the Three Lions.
And she added: "I would love to go to the Euro's and play and do well with this team, so hopefully that can happen."
England completed back-to-back wins over Canada, with Sunday's 1-0 win coming after victory by the same scoreline at the Cyprus Cup in March, with Yankey scoring the winner in that competition.
The squad is currently preparing for Euro 2013 and Yankey believes they are on the right track ahead.
"We put on a good show here [in Rotherham] with a last-minute goal, that's not bad to watch. We wanted to be hard to beat and be consistent," said Yankey.
"I don't think we played at our best but we've got a 1-0 win and that's what shows up and it's the result that matters."
England manager Hope Powell has watched and managed Yankey over the course of her career and has awarded the Arsenal forward all but one of her 125 caps.
And as one of the most recognisable faces in the the women's game, Powell believes Yankey has done her country proud.
"Rachel has been a great ambassador and great leader," said Powell.
"She's dedicated a lot of years to the sport and to the England team and has got her just rewards. She's done really well and as she's getting older, she's getting better in my opinion."
Arsenal striker Ellen White scored the winning goal against Canada on Sunday at the New York Stadium, and now has 13 goals in her 35 appearances for England.
The 23-year-old has established herself at international level and has scored goals at major championships.
"Every goal for England is really special and it was nice to get the winner and defeat Canada again," said White.
"It's great to be playing great opposition who came third at the Olympics and it's great to get this preparation before the Euros. We've another win under our belts and the consistency going into the Euro's. I think we're all really pleased."
The BBC is showing the FAWSL for the first time this season, with four highlights programmes and live coverage of Euro 2013 this summer. The BBC Sport website will also also keep you up-to-date with all the latest news and scores.