Tim Vickery column: It's all got a bit messy for Ecuador's Barcelona
Last updated on .From the section Football38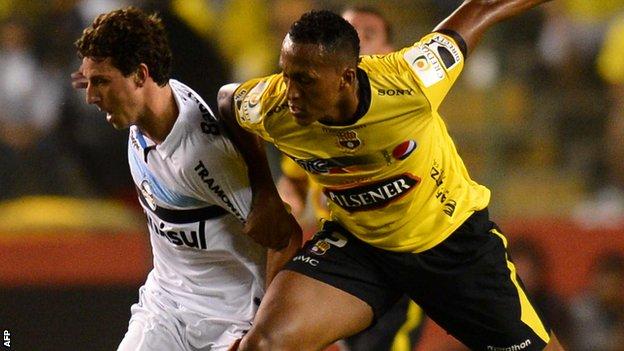 Even with the injury doubt surrounding Lionel Messi, Barcelona remain favourites to see off Paris Saint-Germain and make it through to the semi-finals of Europe's Champions League. But their namesakes on the other side of the Atlantic have already run out of road.
Barcelona of Guayaquil in Ecuador have one game left in the group phase of the Copa Libertadores, South America's premier club competition. It is nothing more than a gloried friendly. Their opponents, Nacional of Uruguay, have already booked a place in the knock out stage, along with Argentina's Boca Juniors.
Beaten finalists in 1990 and 98, Barcelona can no longer qualify after picking up just three points from five games. Indeed, they are one of only two teams in a field of 32 who have yet to win a game. Even so, it was closer than it looks. Of their three drawn games they really should have won two. And their two defeats, both by a single goal to Boca, could have gone the other way.
But there is one statistic that is difficult to dispute. Scoring four goals in five games is not the record of a team that deserves to qualify. Coach Gustavo Costas was honest enough to admit that his men had not played well. Early elimination is undoubtedly a failure - from which we can draw three main lessons.
The first is that it is not easy to sustain success. Towards the end of last year Barcelona won their 14th league title, and did so in style. The Ecuadorian championship is divided into two stages, with the winners of each meeting in a final. Last time, though, there was no need for a final. Barcelona won both stages, the second by an emphatic margin, routing local rivals and closest chasers Emelec 5-0 on the way.
It was the club's first title for 15 years - a long wait for the country's most popular club. Barcelona had spent a few years in the doldrums, and the title win was celebrated all over Ecuador by the club's huge fan base.
The celebrations were still going on during pre-season training at the start of the year. The players were mobbed wherever they went, and some of them have admitted that the group lost focus as a result. In hindsight coach Costas believes they should have isolated themselves far more while they were preparing for the current season - in addition to the Libertadores elimination they have also made a poor start to the domestic campaign.
Lesson two is that a team is an organic unit. Change one part and the collective can suffer. At the end of last year top goalscorer Narciso Mina was sold to Mexico.
Quick, strong and direct, he provided the cutting edge of a team which was rapid on the transition, breaking forward with pace and power. His capacity to push back the opponents' defensive line created space for the talented pair behind him, Argentine playmaker Damian Diaz, and attacking midfielder Michael Arroyo, so strong and adept at cutting in from the left and unleashing booming right-footed shots.
Mina was replaced by Ariel Nahuelpan, an Argentine target-man centre forward. Competent enough with his back to goal, Nahuelpan does not offer the same physical dynamism. With no need to drop deep, it has proved easier for defences to squeeze the space of Diaz and Arroyo. Just as styles make fights in boxing, so the blend makes the team in football.
And refereeing decisions can have a decisive impact on the outcome. Football is an insecure profession; there is little job security and weaknesses and failures are played out in public. Having someone to blame is always handy, and the referee is the most convenient fall guy.
So when Gustavo Costas argues that the referees played a part in Barcelona's Libertadores elimination, it is easy to be cynical. But in this case he has a point, especially because he is not trying to avoid responsibility.
It all looked so promising two months ago when they kicked off their campaign away to Nacional. Before the half-hour Barcelona were two goals ahead. In the second half they lost centre back Jose Perlaza to a very harsh red card, but were still 2-1 up going into stoppage time, when Diaz danced through the Nacional defence only to be hauled down. It would be hard to imagine a clearer penalty. But it was not given, and there was still time for Nacional to find an equaliser.
Last week, away to Boca, the curse struck once more. Needing a win, Barcelona were a goal down - striker Nicolas Blandi sliding in with a suspicion of handball - but mounting a second half comeback. Once more Diaz got in behind the defensive line. This time Matias Caruzzo slid straight through him, and once more the referee waved play on.
This one was so blatant that it left the Argentine media embarrassed. Local TV commentators speculated that had the incident taken place at the other end of the field, a penalty would surely have been awarded.
And this is the point, the third lesson of Barcelona's elimination. Refereeing will always be controversial in football, no matter how much technology is used. Many decisions are questions of interpretation rather than fact - and, as we have seen, players and coaches have a vested interest in finding a scapegoat.
But so often the suspicion is that in that split second he has to make up his mind, the referee can follow a temptation to favour the more traditional team.
That was not good news for Barcelona of Ecuador in the Libertadores. But it could end up helping their more famous namesakes this week in the Champions League.
Comments on the piece in the space provided. Questions on South American football to vickerycolumn@hotmail.com, and I'll pick out a couple for next week.
From last week's postbag:
Do you believe Juan Sanchez Mino of Boca Juniors has what it takes to play for a major club in Europe? There was a bit if hype around him last year after Boca's run to the Copa final, and he had been linked with Napoli. But it has since gone a bit quiet.
Graeme Ronald
There's a reason it has gone so quiet. Sanchez Mino suffered an injury and is only just feeling his way back - he came off the bench in the second half of Sunday's 0-0 draw with Lanus.
I do think he has what it takes. He's a left-sided midfielder who can also play at left back, with a terrific engine - he seems to glide - and an excellent left foot. He's intelligent, keen to learn and would seem to have a bright future.
Sao Paulo is slowly taking over from Rio de Janeiro in terms of the availability of new stadiums. With the catastrophe of Rio's Olympic stadium now and delays with the Maracana, should the Confederations Cup go to Sao Paulo?
Damon Main
It can't. We're well past the point of no return on this. When Fifa put Confederations Cup tickets on sale they were selling specific seats in specific stadiums.
Moreover, Sao Paulo's World Cup stadium is nowhere near ready - it started late because they had a change of mind about which ground to use. And there would be no point whatsoever in using another stadium in Sao Paulo - ie one that is not going to be used in the World Cup.
The Confederations Cup has one real purpose - to act as a dress rehearsal for the real thing. In playing terms, as one Irish radio presenter memorably described it this week, it is a series of friendlies with a trophy at the end. But it is a test of organisational factors, and for this reason will only take place in stadiums which will be used next year.