FA finds no evidence of 'racist abuse' of Ferdinand brothers
By Richard Conway
BBC Sport
Last updated on .From the section Football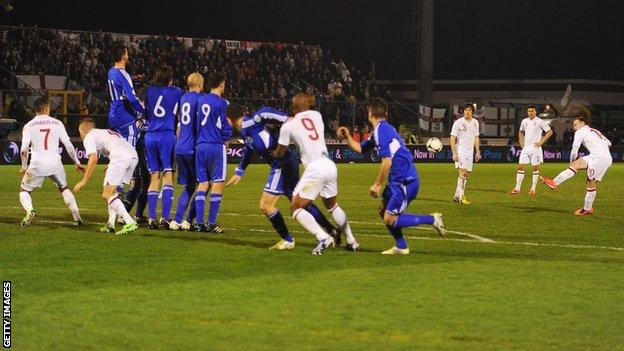 The Football Association will write to Fifa saying it has found no evidence of alleged racist chanting from England fans about Rio and Anton Ferdinand.
European anti-racism body Fare filed a complaint to Fifa over the issue.
But, while the FA does not dispute reports that the chanting took place, it has failed to find any proof.
"We've been asked to supply our submission to Fifa by Tuesday, which we will do," said FA managing director of Club England Adrian Bevington.
"We have gone through all of the video evidence that our security team recorded on the evening of the game.
"I do want to make clear that while the journalists who have reported this have done so in good faith, they clearly have heard some chanting of a particular nature, and we're not disputing that, but we haven't been able to identify any of that from the recorded evidence that we've gone through."
Football Against racism in Europe (Fare) did not have its own observers at the World Cup qualifier on Friday, 22 March and said it had pulled together evidence, including "media comment".
The Football Supporters' Federation (FSF) criticised Fare for reporting the alleged racist chanting on the basis of "hearsay".
Rio Ferdinand was called up into the England squad for the first time since 2011 for the World Cup qualifiers against San Marino and Montenegro.
But the Manchester United defender withdrew, stating that he had an "intricate pre-planned programme" in terms of fitness. He then travelled to Qatar to work as a television pundit, covering the game in San Marino.
Fifa will decide, after reviewing the FA's letter and any available evidence, whether to bring forward a charge.
If a charge is brought and subsequently upheld, the FA could have to pay a fine or potentially play one of their home 2014 World Cup qualifiers behind closed doors.
Bevington refused to be drawn on that prospect, saying: "It's not for me to predict what Fifa will or won't do.
"We are dealing with a very small number in an isolated incident here. And it's not something, thankfully, that we have experienced problems with for a long period of time now.
"It's important we stress that the behaviour of our fans generally over the past decade or more since Euro 2000 has been outstanding.
"If you think of the numbers that travel around the world following England and they conduct themselves in a fantastic manner, and this includes the game against San Marino and [the World Cup qualifier] in Montenegro as well.
"I certainly wouldn't shy away from addressing anything that is a problem. But, likewise, it's also equally as important that we do praise the vast majority of our fans who sometimes can be tarnished by the behaviour of a very, very small number of people."