Matt Le Tissier: Guernsey boss Tony Vance delays debut date
Last updated on .From the section Football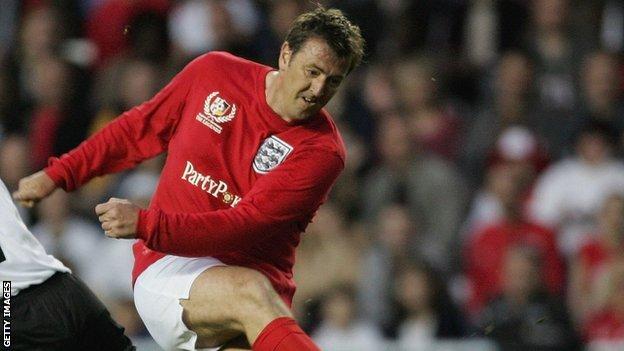 Former England playmaker Matthew Le Tissier is unlikely to play in the near future for Guernsey, according to head coach Tony Vance.
But Vance, whose side won four points from three games in three days over the weekend, played down the reports.
"I can't see him being involved at this early stage of the run-in," he told BBC Radio Guernsey.
"We've got a group of players giving their all but if we're in a situation where we're struggling, he's there."
Le Tissier had earlier said he could make his Guernsey debut on Sunday, 14 April against Raynes Park Vale.
The Green Lions embarked on their busy month on Friday evening with a win against South Park in the Combined Counties Premier Division before losing their first home league match of the season against Cove on Saturday.
They rounded off their weekend with a 2-2 home draw against Camberley Town.
"We felt Friday would be the toughest of the three games and we got the result we wanted there, but Saturday was poor all round and Sunday was a game we should have put to bed," Vance insisted.
"One win, one draw and a loss wasn't good enough and I'm disappointed as they were three winnable games."
Guernsey's four-point haul from the weekend leaves them fourth in the Combined Counties League, 19 points behind leader's Egham Town, but Vance maintained his side would rise to the challenge of their busy fixture calendar.
"We're very concerned about the fixtures, we're up for the challenge but it's a huge task and it's not natural to play this many games," he said.
"We're going to need to find a hidden will and desire to go out there on the pitch.
"What people have to remember is the commitment of these guys, they are amateur footballers who are giving their all to play for their island and their club.
"They have wives, families and jobs, that shows how tremendous an achievement this is, hopefully they'll get their rewards at the end of the season."