Aberdeen manager Derek McInnes seeks Pittodrie improvement
Last updated on .From the section Football34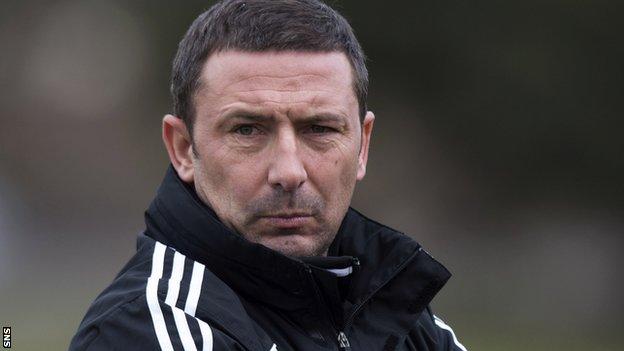 Derek McInnes wants Aberdeen to "fall in love" with its football team again.
With the Dons missing out on a place in the top six this season, McInnes said they had fallen below expectations.
"I haven't made any judgement on any players yet. Every player will have the chance to still be here next year," said McInnes.
The Aberdeen boss said he was focused on improving the squad at Pittodrie.
"On the playing side, there's lots to be done," he said. "I'm even more determined than ever, having been at Tannadice on Saturday [for the defeat by Dundee United] I know about the Aberdeen support and the level of support they can bring to grounds.
"We're lucky to have that support and we know there's more there if they can be stimulated and believe in their team again.
"We've got to give them a team that they believe in and I think they'll turn out for us.
"Because of the tradition and because of the level of support we have, there's always that expectation and a support craving success.
"We've got to give the club and the players every chance to bring that success.
"The situation where we only took over today has not been ideal, I cannot pretend that, but for me it was the right way to do it for loads of reasons.
"There is a respect there for Craig and Archie. It was more important that I got in before the end of the season so I had a better chance to access the staff, everything in and around the club and certainly the players."
Beginning his management career at St Johnstone, where he finished his playing career, McInnes led the Saints to First Division title success and promotion to the SPL.
He joined Bristol City in 2011 and kept them in the Championship at the end of last season.
However, a run of poor results led to the former Rangers, Toulouse and West Brom midfielder being sacked in January.